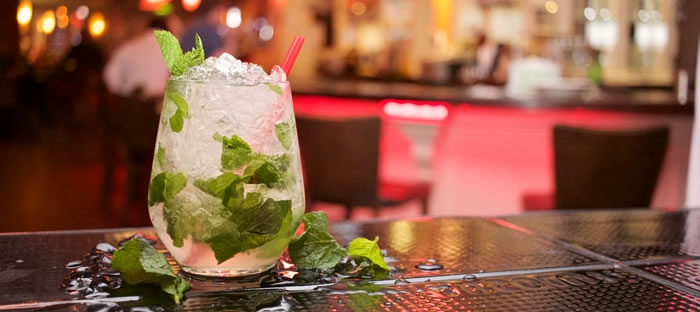 And How to Use Them for Flavor and Presentation
Typography Mixology 101
'The art and skill of mixology is to take away the boring aspect of what to drink before lunch or dinner.' —Salvatore Calabrese
While we strategists at Clariant Creative specialize in perfecting the most delectable content cuisines, we do enjoy dabbling in design now and then. After all, rich content deserves the refined accompaniment of a tasty beverage, which happens to yield the added bonus of relaxed nerves.
Today we explore the art of the aperitif, a pre-meal cocktail devised to whet the appetite. As the esteemed beverage director Jean-Luc Deguines once described, "An aperitif is a wine-based product, served before the meal, to which you need only add a garnish." In the context of web design, consider annotations and bubble text the chalice to decorate with your desired garnish.
Why bother with this art? Suffice it to say that readers get bored or distracted pretty easily, so it's best to add variety not just to your content's format, but also its design, and that includes the choice of typeface. We've prepared a shortlist of readily available, free typefaces (garnishes!) that you may want to keep in stock the next time you roll out the red carpet for your high-class dinner party guests.
Architect's Daughter (the mint leaf)

What it adds to the flavor: Much like the clean and cool herb that is the mint leaf, Architect's Daughter lends an easy-going, fresh sophistication to your flavor content.
What it adds to the presentation: Architect's Daughter, while looking distinctly handwritten, remains clean and easy to read—a perfect typographical choice to garnish a brand that's aiming for a quietly playful style.
Download Kimberly Geswein's Architect's Daughter font here.
The Great Escape (the orange slice)

What it adds to the flavor: This bold classic is a popular for its bright, semi-tart sweetness. The mild acidity of the citrus cuts gently through denser, heavier flavors, balancing the personality of your content.
What it adds to the presentation: The playful, casual vibe of The Great Escape provides a colorful contrast for brands that want to loosen up without sacrificing readability.
Download Kimberly Geswein's The Great Escape font here.
Koebis (pomegranate seeds)

What it adds to the flavor: Koebis functions less as a flavor enhancer and more as a novelty. The delicate, sophisticated sweetness might be lost on some tongues, but the texture and crunch nevertheless attracts adventurous readers.
What it adds to the presentation: Adding champagne or other fizz to a cocktail garnished with pomegranate seeds serves to buoy the seeds for a magical show. Koebis is a wonderful performance typeface that champions flamboyance over practicality.
Download Bagus Budiyanto's Koebis font here.
Patrick Hand SC (twist of lemon peel)
What it adds to the flavor: This small caps typeface brings a classic simplicity to many an aperitif. The bold yet elegant tang of a lone lemon peel curl compliments a variety of flavors without overwhelming the palate.
What it adds to the presentation: In the case of Patrick Hand, the small caps font adds a good-natured, highly readable aesthetic for brands that want to connote liberal level-headedness.
Download Patrick Wagesreiter's Patrick Hand SC font here.
Special Elite (artichoke)

What it adds to the flavor: Special Elite falls solidly on the savory side of garnish spectrum. Equally high-brow and unconventional, antique typewriter typefaces never fail to pique people's interest.
What it adds to the presentation: Not to be taken lightly, Special Elite forfeits readability for throwback sophistication. Its reputation as a highly intentional, crafted design serves to delight readers if used prudently.
Download Astigmatic's Special Elite font here.
As you can see, different typefaces can lend your brand unique character. There are an incredible number of free fonts out there, so if these don't suit you, wile away hours surfing sites like Open Foundry. There are even websites, like Type Genius and Just My Type, that pair fonts like master sommeliers. Or you can read this guide and this article to become one yourself.
More from the Inbound Kitchen…
Did you enjoy Typography Mixology 101? We've got good news for you! We wrote an entire series of Inbound Kitchen classes that can hone your knowledge and skills as well as a Japanese knife steel. You can download the whole series here.
*We know, we know. Fonts and typefaces are not the same thing. We just wanted to be search-friendly for the people who aren't total design nerds… yet!