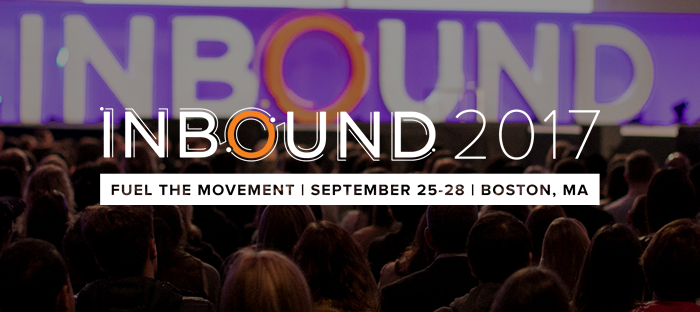 INBOUND 2017 came and went in what felt like five seconds – even though it covered three and a half days of inbound marketing knowledge bombs, inspiring keynotes and new HubSpot product announcements. And it didn't disappoint.
It's been a month since the big event, and I'm still processing all the information I learned while I was there. But it's about time I put all those lessons onto paper.
Here are some of my biggest takeaways from INBOUND17 that every copywriter, content marketer and inbound marketer can (and should) apply to their marketing efforts.
Takeaway #1: If you don't have buyer personas, create them now
Nearly every session I attended stressed the importance of buyer personas. And it's not surprising – knowing who your best customers are is the foundation of inbound marketing.
If you don't already have buyer personas for your business, create them now before you do anything else. Work with your team to pick out three to five of your top customers. Then, sit down with each one and conduct a short 30-minute interview (and don't forget to record it). During the interview, ask questions about their background, industry and business, role, goals, challenges, objections and pain points.
Discover the specific questions to ask during your buyer persona interviews by clicking here.
Takeaway #2: Some words and phrases are more powerful than others
As a copywriter or content marketer, the words you choose in your copy hold power. They determine whether people will read your entire blog, whether they convert on a landing page and fill out a form and ultimately, whether someone chooses to buy from your company.
It sounds like a lot of pressure, but lucky for you, some words are more powerful and persuasive than others.
During her session, Wilde Agency's Nancy Harhut walked us through 26 words, phrases and copy constructs that instantly make your writing more persuasive. And while most of these "power words" didn't look all that powerful, her examples were a testament to just how effective these words are when used properly.
Want to learn some of these words and phrases? Download our free guide here.


---
---
Takeaway #3: Topic clusters are the future of SEO
You've heard it before: SEO is rapidly changing. And while focusing solely on optimizing title tags, page titles, URLs, meta descriptions and image alt text was enough to get you to rank in 2016, it's not enough for 2017 and beyond.
Now, I'm not saying you should stop everything you're doing when it comes to SEO. Of course, optimizing your content is still important, but there's a new strategy in town, and it's known as topic clusters.
In the topic cluster model, a single pillar page acts as the main hub of content for a broad topic. Then, you create multiple pages related to that topic and link back to the main pillar page.
For example, if you're an orthodontist, you may have a main pillar page for the best toothpaste varieties. Then, you'd create 15-20 individual pages around related subtopics like the best toothpaste varieties for sensitive teeth, the best toothpaste varieties for cavities and so on.
By having each of these pages link back to the content pillar page, you're telling search engines the pillar page has the authority on that topic. Plus, topic clusters allow you to organize your site's content in a way that makes it easier for search engines to know where the best content is.
Takeaway #4: Create 10x content
Don't worry, I'm not talking about creating 10 times the amount of content you're already creating (that would be insane). What I am talking about is content that's 10 times better than the best result currently found in search results.
In Garrett Moon from CoSchedule's session on content hacking, he outlined his process for creating 10x content. And it all starts with finding your best opportunities through competition-free content.
Competition-free content is all about finding ways to differentiate your marketing from your competition. And it doesn't need to be huge. Maybe you're the only company in your industry writing long-form blogs, using the topic cluster model or creating custom-made infographics. Whatever it is, you must find something that helps your content stand out from the pack. Once you know what makes your content different, you can effectively create 10x content.
To get started with 10x content, sit down and have a brainstorm session. Write down the big ideas you have, and pick the ones that are better than anything else out there. Then, fill your editorial calendar with those ideas, and start testing. Once you find what works the best, you'll be able to produce better content with even better results.
Takeaway #5: Email marketing isn't dead (despite what people tell you)
We've all heard it: Email marketing is dead. No one reads emails anymore. Too many emails are sent for yours to make a difference.
Don't listen to people who tell you that – because email isn't going anywhere. In fact, email marketing and automation continue to be the top marketing channel. And with an ROI of 4,400%, your business can't afford to not invest in email.
But with the ever-evolving landscape, knowing how to make it work for your business is often a challenge. I attended several sessions on email marketing at INBOUND17, and here are some common themes on how to improve engagement rates and make email work for you:
Responsive design. With mobile representing 54% of all email opens, there's no excuse for not designing for mobile first.


Segmentation. Segmenting your list helps ensure people are getting content they actually care about. You can segment your list based on lifecycle stage (visitor, lead, customer, etc.), geographical location, job role, products/services they've bought from you or any other metric that will help you send content that's relevant to your audience.


Personalization. Personalization involves tailoring your email to the wants and needs of each user. This can include using someone's name, location, job or interests within an email. However, the most common frustration related to personalization is recommendations that don't match their interests. So, make sure to carefully consider how you're using personalization, and always ensure the information is relevant.


Automation. Email automation is a response to a "trigger" or action taken by the user. It's all about nurturing leads and building strong customer relationships. And according to Change Media Group, automated emails drive 18x more revenue than broadcast emails.
Overall, INBOUND 2017 was a blast. Not only did I learn a ton of great information about inbound and content marketing, but I had the chance to meet and get to know my coworkers while re-connecting with old friends. What could be better than that?
Improve the results of your inbound marketing strategy by measuring everything you do. Download our free Marketing Reporting Kit for access to the same monthly and quarterly reports we use with our clients to prove the ROI of our work!