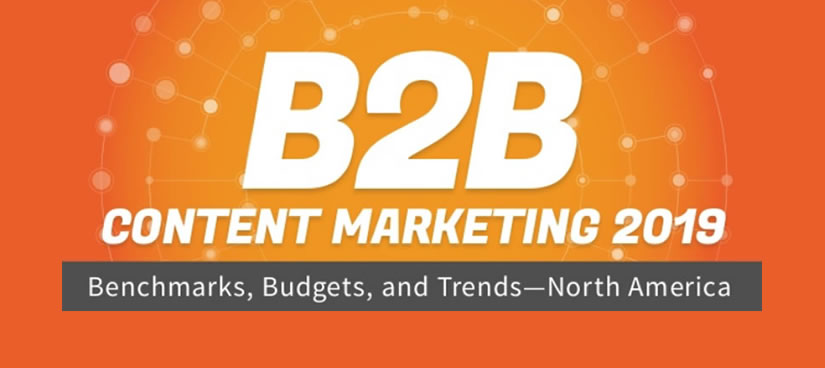 It's that time of year again when Content Marketing Institute (CMI) and MarketingProfs release their latest publication of the B2B Content Marketing Benchmarks, Budgets and Trends report.
While tons of data comes out every year by various industry leaders, this report is one of our favorites because it's packed with great B2B content marketing insights – and the 2019 report is no exception. The 44-slide report dives into the current state of B2B content marketing, how B2B organizations use content for their brands and how the most successful content marketers differentiate themselves.
Even better, respondents from this year's survey were highly qualified – respondents all worked at organizations that have been using content marketing for at least one year, and they all are involved (either directly or indirectly) with content marketing. The result is a more relevant sample of people who practice content marketing on a day-to-day basis and more robust industry insights.
There's a lot to unpack from this report, so we decided to sit down and pull out five key takeaways that will get you thinking about ways you can improve your organization's own content marketing efforts.
A quick note before we jump in: CMI defines a top performer ("most successful") as a respondent who characterizes his or her organization's content marketing approach as extremely or very successful. The "least successful" characterize their organization's approach as minimally or not at all successful. CMI further defines "success" as "achieving your organization's desired/target results."
1. Many content marketers don't talk to actual customers when creating buyer personas
Buyer personas are a critical component of any inbound marketing strategy, and well-researched buyer personas help you create better, more successful content. In fact, 77% of the most successful marketers use buyer personas for content marketing purposes – compared to 36% of the least successful.
Therefore, it's surprising to see that only 42% of content marketers actually talk to their customers to understand their needs. Instead, marketers rely on feedback from their sales team (74%), website analytics (73%) and keyword research (65%) to learn more about their audience.
Our thoughts
It's easy to make assumptions about your ideal customer, especially if you've spent a lot of time talking to your sales team or digging into analytics. But relying too heavily on gut instincts or someone else's thoughts may mean your assumptions are inaccurate, which can be a problem when you're building your entire strategy around these buyer personas.
Instead, interview your best customers and ask questions about their personal background, industry and business, job role, goals, challenges, objections and where they get their information.
By talking to real customers, you'll gain deep insights into your audience that you can't get through secondary research alone. This will enable you to create better content that addresses your audience's real challenges, questions and needs.
2. B2B marketers primarily use email and educational content to nurture their audiences
Generating new leads is a top priority for virtually every business. But perhaps even more important is nurturing those leads and moving them down the inbound marketing funnel so you can convert leads into customers.
It turns out businesses are using several different strategies for lead nurturing. According to the survey, 87% of B2B marketers use email/email campaigns and 77% use educational content to nurture their audience. Another 45% of respondents rely on "storytelling/relating to the audience" to nurture their audience.
Our thoughts
Ever heard the phrase, "email is dead?" (Let's be honest, we know you have.) We're here to tell you that it's just not true – and CMI's report proves it.
However, with so many B2B brands using email campaigns to nurture their leads, it's more important than ever that you approach email strategically. You can improve your emails by:
Segmenting your lists by buyer persona, pain points, industry, company size, etc.
Creating content that answers questions at all stages of the buyer's journey
Sending content to the right people at the right point in their buying journey
Educating your prospects instead of trying to sell them your product or service
A/B testing different subject lines, CTAs, content, delivery times, etc. to optimize open and clickthrough rates
Educational content is another common way marketers nurture their audience. Although the report doesn't specify what types of educational content marketers use, we suggest blogs, e-books, white papers, how-to guides, emails and videos. As you create this content, incorporate storytelling to make your content more human and relatable.
3. There's still a huge opportunity to engage with your audience
Email marketing and educational content are great ways to generate leads and nurture them down the funnel. But many marketers are missing out on opportunities to use content to build more deep-rooted connections with their audience – which may impact the strength and longevity of their relationships with their customers.
Case in point: According to the report, only 23% of marketers use "community building/audience participation" to nurture their audience.
Our thoughts
Content marketing shouldn't only be about amplification; it's also an opportunity for you to connect and engage with your audience.
These connections build trust and camaraderie in ways other tactics can't. And these connections are critical if you want to be able to empathize with your audience, speak to them as peers and truly understand their needs, problems and challenges.
Some ways you can build community and encourage audience participation include:
Encouraging your audience to comment on blog posts
Asking readers to reply to emails with their thoughts, questions and concerns
Responding to comments (both positive and negative) on social media
Creating a Facebook group for leads, prospects, customers or other people in your industry
Hosting a weekly Twitter chat
Encouraging customers to leave reviews of your business on sites like Google and Yelp
When you take the time to engage with your audience and bring them into the conversation – rather than talking at them – you'll humanize your brand and build trust while also nurturing your audience.
4. The most successful B2B content marketers prioritize their audience's needs over their company's needs
There are noticeable differences in how the most and least successful B2B marketers approach content creation – specifically in how they prioritize their audience's needs.
Nearly all (90%) of the most successful B2B content marketers prioritize their audience's informational needs over their sales and promotional messages, compared to 56% of the least successful marketers.
Additionally, 77% of the most successful marketers craft content based on specific points/stages in the buyer's journey and 81% prioritize delivering the right content to the right audience(s) at optimal times – compared to 28% and 32% of the least successful marketers, respectively.


---
---
Our thoughts
We say it all the time: Your marketing isn't about you – it's about your buyer personas. While it's tempting to use blogs, emails, social media and other content to promote your product/service or talk about how great your company is, the reality is that's not what your audience cares about. That's not what they're searching for online. And the most successful content marketers know this to be true.
When creating content, always focus on your audience. What are their biggest pain points and challenges? What questions do they have at each stage of the buyer's journey? What information do they need to make a buying decision? What reservations do they have when it comes to purchasing your product or service?
These are some of the questions you need to be thinking about when developing your content marketing strategy and crafting content for your brand.
5. Keeping up with algorithm changes is important to B2B marketers
Inbound marketing is always evolving, and keeping up with the ever-changing algorithm updates is important – regardless of whether you're an in-house marketer or you work for an agency.
Therefore, it doesn't come as much of a surprise to hear that 61% of marketers say changes to SEO/search algorithms is the top content marketing issue of importance to their organizations. Additionally, 45% of marketers say changes to social media algorithms is a top issue of importance.
Despite the changes to social media algorithms and data privacy laws, businesses show no sign of slowing down when it comes to using social media for their businesses. Only 5% of marketers reported a decrease in use, and 61% said they've increased their use of social media compared to one year ago.
Our thoughts
This is great news! As marketers ourselves, we know how challenging it can be to keep up with best practices, algorithm changes and data privacy laws – but we also know how important it is. And it's clear from this year's report that many marketers see the importance too.
All of these insights are fantastic, and we love the way CMI's report shows how the most successful content marketers set themselves apart from their less successful peers. In fact, our five takeaways above are only a small fraction of what you'll learn by reviewing this report.
We're not suggesting you overhaul your entire content strategy based on this one report, especially if what you're doing is working. But as you read through the report, you'll likely learn ways to improve your content marketing – and it's worth considering how this might make a positive impact on your organization.
The most successful content marketers don't just create content; they also spend time creating the right strategy for that content, first. View our guide to creating a comprehensive B2B content strategy and find out where to start.