Create smarter reports that show your true digital marketing ROI.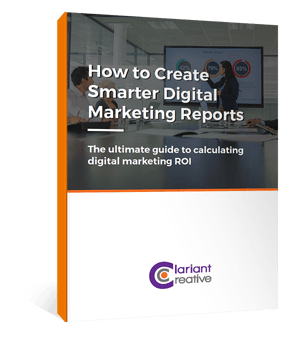 You've spent time and money creating and implementing your marketing plans. How will you know if your digital marketing strategy is successful? It doesn't make sense to close your eyes and hope for the best.
You need marketing metrics.
Specifically, you need to know:
What's working, so you can do more of that.
What's not working, so you can stop doing that.
What should be working but isn't, so you can fix that.
In our guide to creating smarter digital marketing reports, you'll learn how to gather and analyze your marketing data to ask better questions, think more strategically and make better marketing decisions. We'll show you the three key components to a great digital marketing reporting strategy:
What business and marketing KPIs to track.
How to set SMART marketing goals for every metric.
What to do with your marketing reporting data.
Fill out the form and start calculating your digital marketing ROI today!