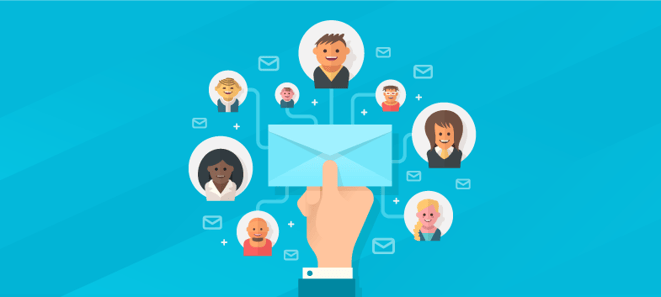 Let's face it, in the age of social media, email marketing feels like your father's Oldsmobile.
It's a dial-up modem. An AOL disc. A flip phone.
With so much shiny new technology coming out every other week, email is certainly an easy target, but here's something to think about – why email marketing might still a valuable inbound marketing tool?
It's harder to cast email as a has-been when one considers some of the current numbers:
The number of email users worldwide is expected to rise to 2.9 billion by 2019
Segmented email campaigns have an open rate that's 14.32% higher than non-segmented campaigns
Open rates for emails on mobile reached 68% in 2016
Businesses with automated emails generated 320% more revenue than those who didn't
Email is the 3rd most influential source of information for B2B audiences – only behind colleague recommendations and industry thought leaders
Email marketing has an ROI of 4,400%
Wow! If email is still old-fashioned, then let's all pile into the Model T and head over to the drugstore for a soda!
Why email works really isn't such a mystery. The truth is, the same things that made email such a revolutionary marketing tool once upon a time are still largely in play today.
---
---
But with consumers more concerned than ever about spam and distracted by everything else clamoring for attention on their computers and mobile devices, the more important question is: How can you make email work for you?
Start by using this equation as a guide:
Right content + right audience + right time = success
With this equation in mind, here are five tips for sending better emails.
1. Determine your audience
The key to solving the above equation is determining who your customer is and, just as importantly, determining where they are in the buyer's journey. Are they just starting to do research on your product or industry? Are they on the cusp of a decision?
The answer to these questions will help you decide what kind of message will meet them right where they are and most effectively speak to them.
2. Segment your contacts
Geography, company (size, type, industry), job title/role (department/seniority/function) – these are all great ways to break down your database into smaller chunks to better understand who you're trying to appeal to with a particular email message.
You can even take segmentation a step further to see which of your contacts might be most open to your email message by breaking your audience down by conversion events, social activity (Twitter followers, Facebook fans) or past email opens.
3. Keep your emails short
It's not often that we hear "shorter is better" in content marketing. But this is definitely the case with marketing emails.
In today's fast-paced environment, people are always on the go, and they don't have the time to stop and read long emails.
When writing emails, get to the point quickly and try to keep your emails to a few short paragraphs at most. If you feel the need to write a longer email, consider creating a landing page with the information, including a paragraph or two in the email and then linking to the landing page.
4. Break up the copy
Use formatting styles like headings and bullet points to help shorten your email and make it easier to read.
Often, a simple heading can eliminate a sentence or two of copy, serve as a transition between topics and help break up larger chunks of text (which can be difficult to read in an email).
Also, bullet points help you highlight certain information, write more quickly and are easy to scan by on-the-go readers.
5. Include personalization
People value personalization. Simply including a contact's first name in the subject line or greeting can dramatically improve open and clickthrough rates.
In fact, a study by Experian showed that personalized emails generated six times higher transaction rates than those that weren't personalized. Additionally, emails with personalization have 29% higher unique open rates and 41% higher unique clickthrough rates.
Don't think you're limited to just personalizing emails with a person's name. Other ways to personalize emails include using a person's job, location, pain points, buying habits and more.
Sending better marketing emails is easier than you think
Email marketing isn't going anywhere, and if it's not part of your existing inbound marketing strategy, now is the time to get started. By following the tips above, you'll be sending better marketing emails in no time.
Now that you've improved your email marketing, it's time to put together a report to show your wins to your C-suite executives. Download our free e-book, Six Marketing Metrics You Can't Afford to Ignore, to learn more.