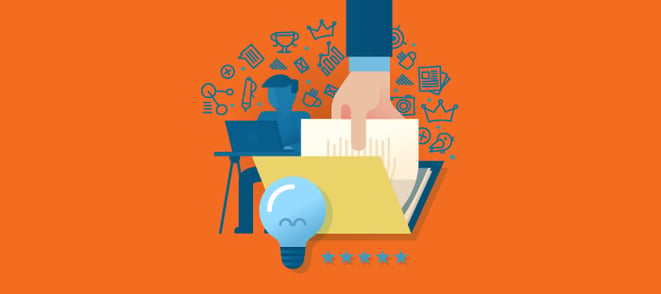 Sometimes marketers put so much emphasis on generating leads and converting customers that we forget about the last phase of the buyer's journey: retention.
Once you sign a client or win a customer, how do you keep that person or company happy – even delighted – with your brand?
There's no simple answer, but one large piece of the puzzle is custom content.
What Is Custom Content?
One way to think about custom content is that it's the messaging you provide to your current clients – as opposed to content marketing, which is aimed at prospects.
Custom content that delights your clients can take the form of social media posts, newsletters, emails, white papers, industry reports, and webinars.
---
---
The Content That Keeps Your Clients Happy
Have you ever gotten an email or newsletter from a company you do business with that genuinely makes you smile? What pleased you about it? We're guessing it probably had one or more of these attributes:
Easy to get.
There's nothing delightful about wading through a dozen clicks or shooing away a series of pop-ups. And if it isn't delightful, you shouldn't be sending it. Make your content delivery as friction-free as you possibly can.
Tip: This applies to your website as well. Your navigation should be clear as a bell, making it easy for visitors to find what they want without hunting.
Unexpected.
This can mean funny, or emotional or even controversial. The point is, when you read something that truly sounds different, it's a relief.
Tip: Read your competitors' blog and social media, and, if you can, sign up for their newsletters. Then craft your messaging to be different from theirs, not only in substance, but also in tone and voice.
Smart.
It's frustrating to get halfway through a newsletter or email only to realize it's not saying anything new. Avoid making your customers feel this way by investing in truly engaging content that makes an interesting point and has no errors.
Tip: One tactic to serving up smart content is to know your customers inside and out. Smart content for one audience might be deadly boring to another, but you can only understand this if you've researched your buyer personas. (See below for more on buyer personas.)
Personalized.
This goes hand in hand with being smart. Segment your customer and client lists so that they feel known. For example, if you're an accounting firm serving both individual taxpayers and medium-sized businesses, you shouldn't send them both a guide to navigating sales tax audits.
Tip: Monitor your social media engagement to understand which types of clients are engaging on each platform, and tailor your messages to fit the platform. If the outlet is a catchall, like Twitter, make sure you send out a healthy proportion of universal messages that will appeal to every segment of your customer base.
Radically helpful.
What could be more delightful than getting much-needed help delivered straight to your inbox? This could come in the form of an FAQ, an industry benchmark report, a productivity tool or a cheat sheet. It will depend on your industry, but one factor is applicable across the board: your customers should feel grateful to receive it.
Tip: This is where meticulous and consistent customer research on buyer personas is paramount. Talk to your customers. Send them brief, easy-to-complete surveys. Find out where they spend their time online and spend your time there, too. Once you know the challenges they face, you're poised to create content that can make their lives easier.
Go Spread Some Delight!
You don't need a staff of writers tirelessly churning out viral headlines and snappy memes to use custom content to your advantage. Just remember to follow the five principles above for every piece of content you offer. And picture your clients smiling as they read it.
One of the best ways to get started writing amazing custom content is to use a proven format for your articles. Download our Blog Post Templates for eight creative article starters that are ready to use immediately!