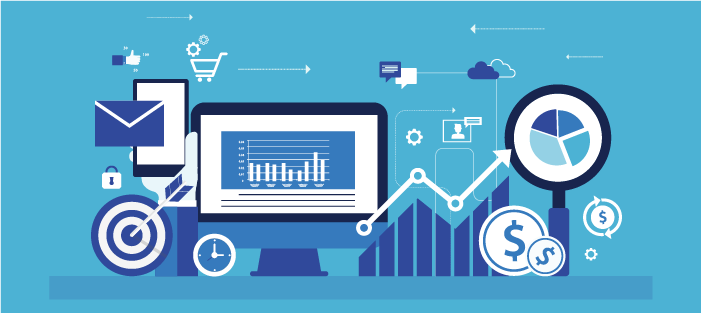 It's where you get in political arguments with your mother's cousin, share quizzes about which character from Game of Thrones you would be (I'm Brienne of Tarth!) and post photos of everything from your kids' first day of school to your cat sitting on a chair like a person.
It's Facebook, and we're all on it.
Along with posts from our friends and family, it's not unusual to see Facebook marketing, primarily from B2C companies like retailers and service providers. After all, if 79% of all adults online use Facebook, it's a good place to get your messaging in front of your audience.
But B2B businesses have been looking longingly in the window, watching in envy as B2C businesses woo and engage with customers. And considering that few people on Facebook list their employer on their profile and even fewer list their job title, there's really no way to target a B2B audience on Facebook.
Or is there?
As it turns out, there are a few Facebook marketing tricks B2B companies can use to be effective. But before we get into that, we need to talk about why it's important for your business to be marketing on Facebook in the first place.
Why Facebook marketing matters
We know that Facebook is popular. But why does your B2B company need to market on it? Advertising on Facebook allows you to:
Get found before your competitors
Scale your business
Generate new leads
Establish long-term relationships
Take advantage of retargeting strategies
Additionally, advertising is a great way to get your name in front of new audiences. But, in an online marketplace, ad buys in traditional media (like TV, magazines and radio) aren't always the best use of your resources.
For example, if you sell human resources software for enterprises, you need a broad geographical reach in your ad spend, especially if your local area doesn't provide a big enough market for you to succeed. By advertising on a social media platform used by almost two billion people, your potential reach is limitless.
And the B2B companies who are engaging in Facebook marketing? They're seeing excellent results, with three out of five advertisers calling Facebook the best return on their ad dollars.
---
---
How to target your B2B audience
One of the biggest concerns for B2B companies is how to target your ideal audience when very few people list their job title on Facebook. However, it's not impossible, and there are three effective ways to do so. I call them the Shiny Object, the *69 and the Attack of the Clones.
Shiny Object
This is a low-cost way to get your audience to self-select. You don't want to spend a ton of money on an ad for HR software sent to a wide audience that isn't interested in your product or service. But what if you do a low risk, low cost boosted post from your Facebook page to a broad audience that will only appeal to people in HR?
As an example, you could post a funny image, clever meme or short video about what it's like to work in HR. Boost the post to a scattershot, broad audience, and then wait. The people who "like" your post probably work in HR. Those are the people you can then target for a more specific, high-value ad.
*69
We oldies will remember *69 from the days before caller ID, when you would press it to find out the number that had last called you. We can apply the concept to Facebook marketing through what's known as retargeting. Basically, anybody who visits your site, even if they don't fill out a form, gets a tracking cookie. Then, when they're on Facebook, they'll see your ad reminding them of a great deal or special offer. This type of advertising can be very effective — after all, if they've already visited your site, they're at least a little bit interested in you.
Attack of the Clones
If you already have a bunch of great customers, why not clone more of them? In your Facebook Ads Manager, you can create a custom audience and upload a list of your best customers (anywhere from 1,000 to 50,000 is a good number). From there, you can create a lookalike audience.
All you do is select what countries you want to target and the audience size (with the lower percentage being the people who have the most in common with your existing clients). You can also create lookalike audiences based on other parameters like who's engaged with your content or converted on a specific offer.
For a B2B company to effectively target an audience with Facebook marketing, it requires a little bit of know-how and finesse. But with a few expert techniques and some persuasive, compelling content and ads, you'll soon be bringing in plenty of new leads — all of whom were probably browsing Facebook while at work.
Hey, we all do it.
Learn how to track the success of your social media and inbound marketing efforts with our free marketing reporting toolkit.