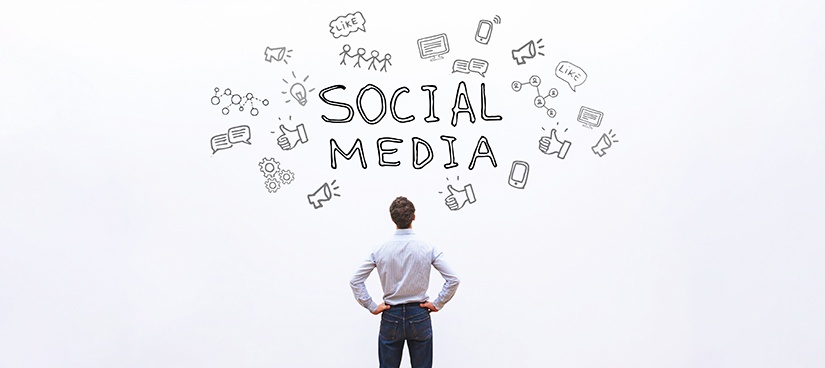 When you think of using social media for business, you probably think of all the cool, hip fitness, beauty, clothing and entertainment companies out there that share fun, creative content with their highly engaged audiences.
It's quite overwhelming, actually. If you're new to social media, where do you even begin? And if you're in a B2B industry, you might question whether social media will be worth the effort for you.
Don't worry, because you're not alone. And definitely, please, do make the effort to get started with social media, even if it's just to dip your toes into the pool. I have tips that can help.
Here's the truth: Social media isn't reserved just for B2C companies with super-fun products to sell. Approximately 2.6 billion people around the world use social media, and there's a darn good chance that at least a small percentage of them are interested in your industry.


---
---

Plus, who says that businesses in all industries can't have fun on social media? Whether you're selling managed IT services or company wellness programs, it's all about knowing what your audience is interested in and what types of content they want you to share. But before I jump into what to post on social media, let's take a step back and quickly cover some do's and don'ts of using social media for your business.
DO know your brand voice
Being boring or stiff on social media is a good way to fail. Unfortunately, a lot of companies don't really think about creating a social media voice, and as a result, their posts lack personality.
Now, I'm not saying being sassy, sarcastic or over-the-top is the right approach for your business. But you can (and should) develop a social media voice that's human and reflects who you are as a business.
DON'T use social media to sell
Most people are on social media to be entertained, kill time and connect with friends ­– and your content needs to appeal to that.
People don't want to go on social media just to see brands pushing their products or service. Instead of publishing a bunch of videos about how your product works or pushing a free trial of your service, create content that tells a story, sparks conversation, appeals to emotions, and shares your company culture and who you are.
DO put someone in charge of your social media
Someone needs to oversee your social media. It can't just be something that different members of your team work on during their free time. This is a surefire path to an inconsistent brand voice and erratic publishing schedule.
If you can't afford to hire a social media manager, freelancer or marketing agency (and some businesses can't), find someone in your organization who has a passion for social media, understands your audience and can present your brand in a positive light.
DON'T spam your followers
No one likes spam – whether it's snail mail, email or social media. Avoid posting the same information over and over or posting too frequently. If you do this, you risk becoming a nuisance and may lose some of the followers you've worked so hard to gain.
DO engage with your audience
Instead of just broadcasting your content on social media, spend time each week engaging with your audience. Talk to your audience by replying to comments (both good and bad), answering their questions and being part of the conversations happening on your pages and online.
DON'T just stick to LinkedIn
It's no secret that LinkedIn is one of the most effective channels for B2B businesses. In fact, Content Marketing Institute found that 63% of marketers rated LinkedIn as the most effective B2B social media platform. And the reason so many B2B brands are on LinkedIn is that it's a great way to generate more leads and drive traffic to your website.
But that doesn't mean you should only have a presence on LinkedIn and call it a day. Like I mentioned above, social media is about providing value, humanizing your brand and connecting with your audience. And you know where you can do that? Facebook, Twitter, YouTube and even Instagram.
DO know your goals
As with any inbound marketing tactic, you shouldn't use social media for your business just for the sake of doing so. Before getting started, you need to determine what success looks like for your business. Are you using social media to build brand awareness? Increase reach? Get more leads? Generate more traffic to your website?
The answers to those questions will help you decide what types of content to post and what metrics to measure.
What to share on social media
One of the hardest parts about managing social media for your business is coming up with fresh content ideas your audience will love. Often, companies don't know what to post and just end up auto-sharing their blogs. And while your blog content is a great resource to share, it shouldn't be all you post on social media.
I can't even tell you how many times I've sat down to create social posts for Clariant Creative just to think, "What should I be sharing? Will our audience like this type of post? Should I change it up next week? What else could we be doing to boost engagement?"
To help make the planning process easier for you, I've put together a list of 10 social media content ideas you can steal for your own business. Let's jump in!
1. Helpful tips
Great social media content is about helping potential customers better understand their biggest challenges. Chances are, you know a ton of helpful tips and tricks that could help your followers solve those challenges. Why not share that information with your audience?
Sharing tips and advice not only helps people solve their challenges, it's also a way for you to share your knowledge, build thought leadership and build stronger relationships with people.
To start, write down a list of helpful tips related to your product or service. You can also pull out helpful tips and tricks from your blogs, white papers, e-books, webinars and other resources.
You can share your helpful tips by:
Creating a graphic (Canva is a great tool for this)
Putting together a short video clip
Writing the tip in the caption of your post along with a relevant image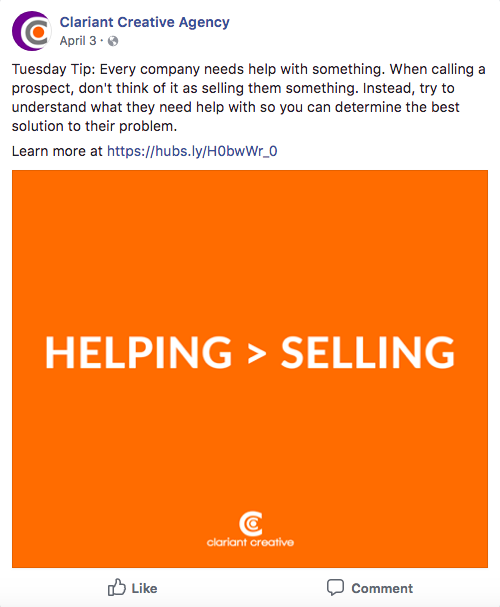 2. Go behind the scenes
Social media shouldn't be all about your brand, product or service … but that doesn't mean you can't feature yourself every once in a while. Showcasing your company, employees and culture is a great way to humanize your brand and remind your followers that behind your product or service is a group of real people who work hard to make their experience better.
Some ways to go behind the scenes include:
Introducing new employees
Sharing pictures around the office
Sharing fun facts about your employees
Giving employee shout-outs for birthdays, milestones, etc.
Sharing pictures from company gatherings and celebrations
Posting pictures of team members at work, after hours and in the community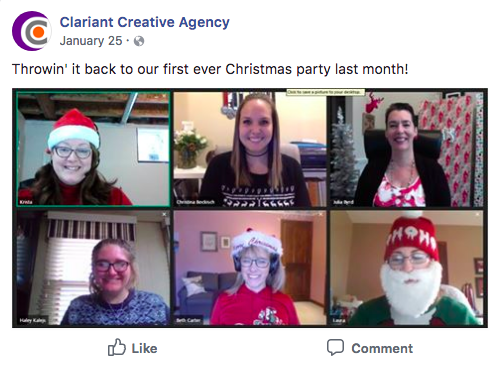 3. Videos
Video marketing has blown up over the past couple of years, which really shouldn't come as much of a surprise. Videos are more memorable than text or images, and it's easy for people to consume and engage with video content.
If you're not sure what types of videos to create, here are a few ideas:
Company culture and behind-the-scenes
Company announcements and milestones
Customer testimonials
Helpful information or topics
Industry news
Tutorials and how-to guides
Product announcements
Pull key ideas from top-performing blogs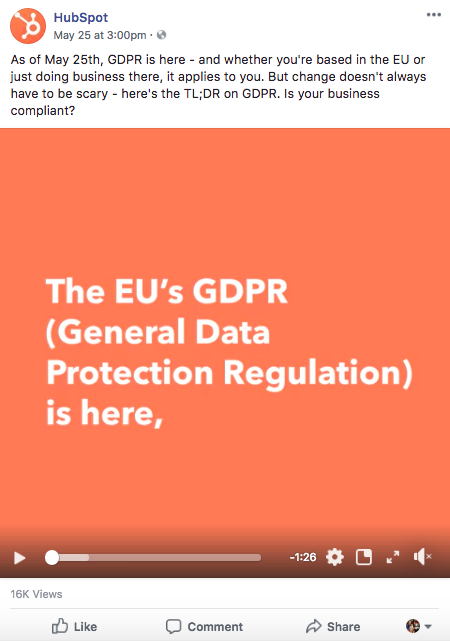 4. Answer questions
You answer questions from your prospects and customers every single day. If your customers have these questions, a lot of other people probably have them as well.
Create a list of common questions people ask you (either during the sales process or after they become customers), and answer these questions on Facebook and Twitter. This is also a great opportunity to create a branded hashtag for your company – like #AskClariantCreative.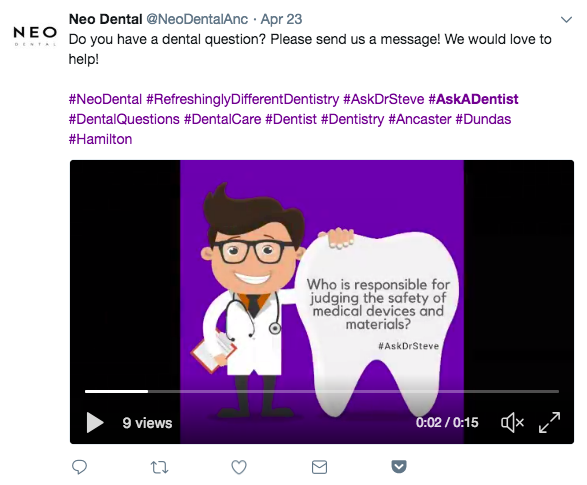 5. Customer spotlights
It's no secret that people do business with people they know, like and trust. A great way to build trust – and show your appreciation for your customers – is to showcase the real people who use your product or service.
Customer spotlights can be as simple as posting a picture of one your customers with a short testimonial or quote. You could take it a step further by sharing a case study or clips of a video interview you did with a customer.
The more appreciation you show to your customers and followers, the more likely they'll be to share your content and promote your business.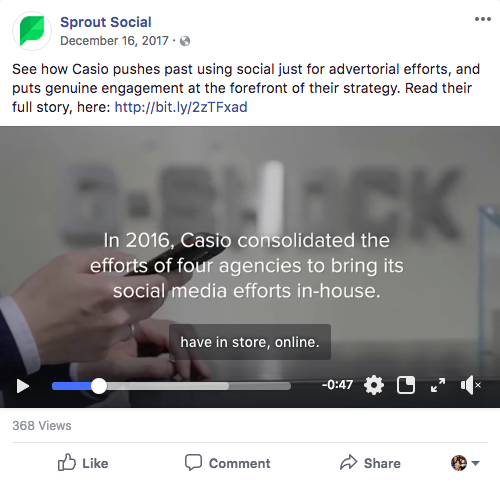 6. Live tweet from events
Conferences, trade shows and other industry events are an awesome social media opportunity. Not only do events provide great content for your pages (specifically Twitter), live tweeting gives you the chance to engage with other businesses, share your experiences with others and boost engagement.
Here are a few best practices to follow when tweeting from an event:
Let your followers know you'll be at the event
Use the event's hashtag every time you tweet
Share photos, interesting facts and key takeaways from sessions
When quoting a speaker, include their Twitter handle when possible
Retweet other businesses who share great content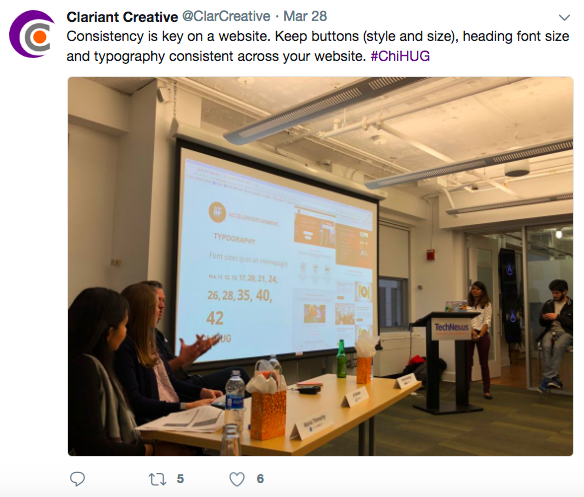 7. Attention-grabbing statistics
Sharing relevant and eye-opening statistics allows you to quickly capture the attention of your followers. Pull statistics from blog posts, white papers, e-books and guides – or do a quick Google search to find new industry data.
You can use statistics in the caption of your post to encourage followers to read your blog, download your resource or watch your video. Or you can create a graphic with the statistic and add a caption with a helpful tip or valuable statement.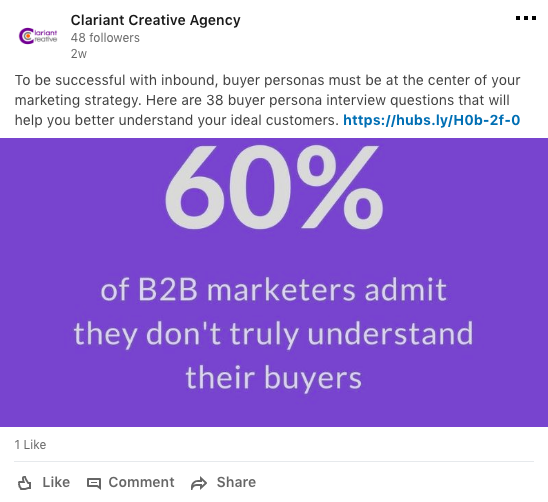 8. Motivational quotes
Everyone loves a good quote, and quotes tend to get a ton of engagement on social media because they're relatable and inspirational. Plus, a quick Google, Pinterest, Twitter or Instagram search will give you plenty of quotes to choose from.
Use a tool like Canva to create an attention-grabbing graphic – either with a color or photo background – and add a relevant caption.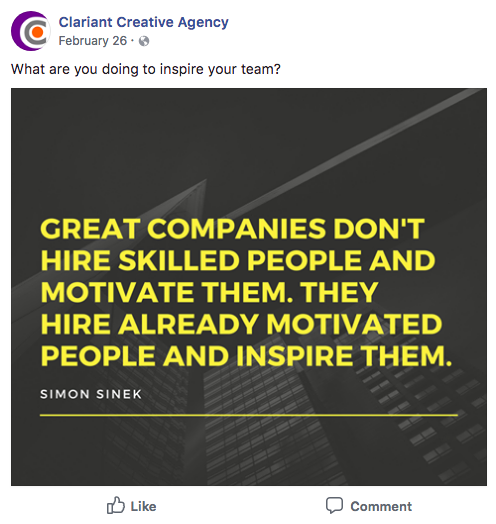 9. User-generated content
Sharing user-generated content allows you to show appreciation to your followers while building stronger relationships with your prospects and leads.
This is a common tactic for B2C companies since people love sharing pictures of products that they love. But just because you're a B2B company doesn't mean you can't get in on the action – it may just take a bit more work.
Encourage your followers and customers to share pictures when they're using your product or service. For example, if you sell company wellness programs, ask your customers to share pictures on social media when team members are eating a healthy lunch together or when they're taking a mid-day walk.
Depending on your product or service, you can also take Buffer's approach and encourage your followers to share photos of themselves, their travels, their pets and more. Sure, their posts aren't directly related to their product (which is a social media platform), but this approach allows Buffer to engage with their followers while sharing fun content. Plus, this dog is pretty cute – isn't he?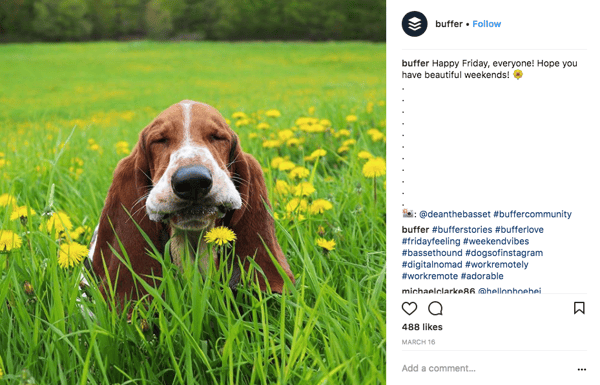 10. Social selling
Social media shouldn't be about selling, but it's still important that your efforts pay off. This is where social selling can be extremely valuable.
Social selling isn't hard selling or cold calling. It's about using social media to introduce prospects into your funnel. You do this by finding people who could benefit from your product or service and sharing relevant, helpful content with them. It's also a way for you to help your existing customers by showing them how they can get more out of your product or service and providing them with even more value.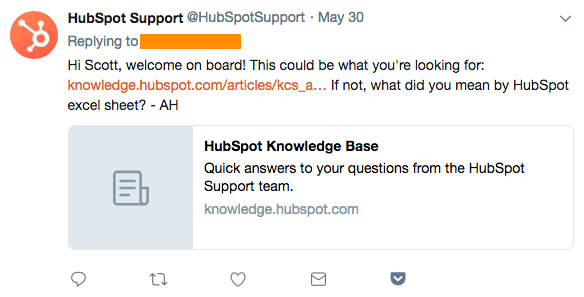 Get started with social media for your business
When considering what to post on social media, take advantage of what's worked well in the past. For example, "motivation Monday" has been successful on our Facebook page, and these posts typically receive the highest engagement. So, instead of reinventing the wheel, we do a motivational post every week. Find what types work well for your audience, and incorporate more of those into your social media strategy.
And remember: Social media wasn't created for businesses. It was created for humans. Whenever you post on social media, find ways to humanize your brand. Let your hair down, have a little fun and don't be afraid to follow in the footsteps of B2C companies.
The best way to know what's working and what's not is to put together analytics reports every month. Download our Marketing Report Template for free, easy-to-use monthly and quarterly reports that will help you tell the right story with your data.