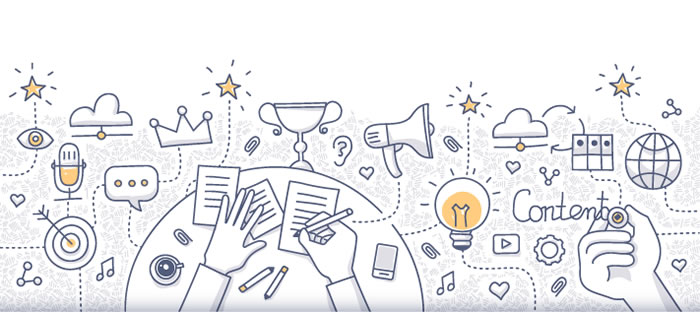 Great news: you've been handed the plum assignment of launching your company's new social media content strategy!
What a perfect fit! After all, you've been using social media in your personal life and career for years, so Facebook, LinkedIn, Twitter and Instagram are practically second languages for you at this point. Still, the word "strategy" implies that there may be more to this gig than simply throwing out a bunch of posts and hoping for the best.
Good thinking. There is, indeed, much more to a social media content strategy than firing posts blindly into cyberspace and assuming they'll be noticed (and acted upon). It's about incorporating social into the DNA of your company and rethinking content in terms of how it will be received, consumed and shared among social users.
Having a basic understanding of the leading social media platforms is certainly a good start, but to really get from socially aware to socially effective, take that knowledge five steps further.
Set Goals and Metrics
It seems basic, but has anyone ever really laid out why your company is on social media in the first place? Or is it just something everyone figures you're "supposed" to do? Ask yourself these questions:
What business objectives are we trying to achieve with social media?
Awareness. Sales. Loyalty. These are all valid reasons for a company to be active on social media. But it's helpful to clearly define which of them really make the most sense for your company.
---
---
How often will we utilize social media?
Choose specific, achievable targets that create a consistent presence without veering into overkill.
How will we evaluate our social media content strategy's effectiveness?
If you want your social media efforts to be more than just window dressing, you have to define success. Likes are great, but how do you get beyond that to ROI, conversions and other tangible measures?
Think Holistically
The difference between a social media presence and a social media strategy is largely one of scope. To really approach social media strategically is to look beyond individual social media platforms and posts, and instead focus on how every piece of content your company produces fits into your social goals.
Rather than thinking "what can we post to Facebook today?" make sure your team is instead approaching content creation by incorporating the notion of where in the social realm a particular piece of content will be best positioned to get maximum exposure and response.
Listen
One of the great (though often unrecognized) benefits of social media is the ability to not just broadcast your content out to the world, but to listen to what the world is telling you. In other words, social media can and should be a conversation. So instead of just focusing on the message you want to send, take the time to try and figure out what your audience may be looking to hear by monitoring customer and competitor posts for:
Which types of content are resonating?


Which topics are trending?


Which styles and voices are garnering attention?


Which social media platforms are generating the best traffic and interaction for different kinds of content?


Where opportunities may exist to directly interact with consumers?
Nothing solidifies a particular customer relationship and gets the attention of other potential customers than an empathetic and efficient response to a social media query or complaint

Find Your Social Voice
Ideally, your company's social voice will be very much in line with your overall corporate voice; that is, your social media posts won't be so radically different in tone or approach so as to confuse customers as to whom you are. That said, the social world is definitely a different animal with its own distinct vibe – stuffy and righteous is a sure ticket to social media oblivion.
---
---
The very term "social" implies friendliness and humanity, so by all means stretch out a little. Try to find the balance between informative and informal without losing sight of what you're trying to accomplish.
Channel Your Efforts
Only after you've tackled some of the above steps should you dig into the area where many companies mistakenly try to start – determining how to apply your strategy specifically to Facebook, LinkedIn, Twitter, Instagram and other platforms.
By first establishing a social media content strategy with goals, metrics, audience and voice considerations, etc., you'll have a better idea of what (if anything) you should be doing on each of these outlets.
Maybe your company is just getting started in social media, or maybe you've been posting for years to varying degrees of success. Either way, taking the time to consider the above points and forge a solid social media content strategy will go a long way toward making your social media efforts more meaningful and more measurable.