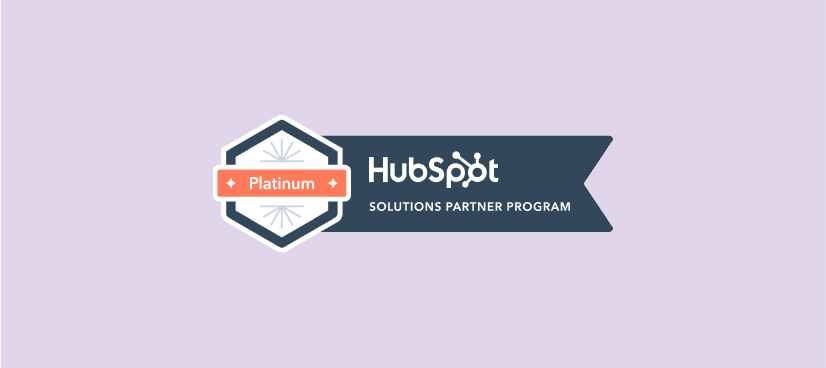 We are thrilled to announce that Clariant Creative Agency has achieved the coveted Platinum tier in the HubSpot Solutions Partner Program. This is an enormous honor that caps off a year of tremendous growth for our agency and our clients, and we couldn't be happier or more excited about our future.
HubSpot's Solutions Partner Program is a global ecosystem of customer-centric agencies and service providers that have partnered with HubSpot to ensure HubSpot customers are able to find the support they need to grow better. HubSpot recognizes high-performing partners with tiered status that certifies the agency meets HubSpot's strict requirements for technical expertise and client satisfaction.
Achieving Platinum status signals the extensive hard work everyone on the Clariant Creative team has put in, all in the aim of helping our clients grow. Despite (or maybe because of?) the craziness of the last several years, in 2021 we were delighted to bring even more manufacturing, health care, SaaS and professional services companies into the Clariant Creative family.

"It has been an absolute pleasure and honor to be part of the Clariant Creative family and watch them grow into the agency they are today. They are incredibly brilliant, dedicated and hardworking – but they still always remember to have fun while doing it. I am so proud to see them achieve Platinum, and I could not think of any team more deserving."
– Krysti Morales, HubSpot Channel Account Manager
Early on in the pandemic, we realized that helping our clients tackle their growth-related challenges in this "new normal" would require us to expand our service offerings from a purely funnel-based approach to instead span the entire inbound flywheel. Our favorite successes for our clients in the past year have included complex, custom HubSpot Marketing Hub implementations, extensive sales enablement support with the HubSpot Sales Hub, and customer marketing and knowledge base development with the HubSpot Service Hub. We also strengthened our relationships with a selected group of specialty partners whose services complement ours, which enables us to deliver the digital advertising, audio/visual, and technical development solutions our clients need.
Notably, we've accomplished all this while also staying true to our core strength: producing the highest quality content that enables our clients to crush their growth goals.
Expanding our services has also led us to expand our agency team. In 2021, we added Tabitha Middendorf and Nikk Hickenbotham, two highly experienced Inbound Marketing Specialists who join Caitlin Castevens and Marta Oddone in building and executing our client strategies. We also brought on Rachelle Koenig, our new Lead Content Writer who brings 25 years of writing chops across multiple B2B industries. With our existing leadership team consisting of Krista Elliott, our Director of Content, and Laura Swords, our Lead Graphic Designer, we're proudly a woman-owned and women-led agency.



"All in all, 2021 was an amazing year for Clariant Creative. We are so excited to create bold new opportunities for our agency and our clients in the coming years ahead."
– Beth Carter, Clariant Creative Founder & President
If you've been following our blog and enjoying the resources we publish, and if you're wondering what it would be like to work with us, give us a call! We're happy to do a free audit of your content strategy or a review of your HubSpot portal for advice and suggestions on best practices. Simply click here to schedule a short consultation, and let's dive in together!