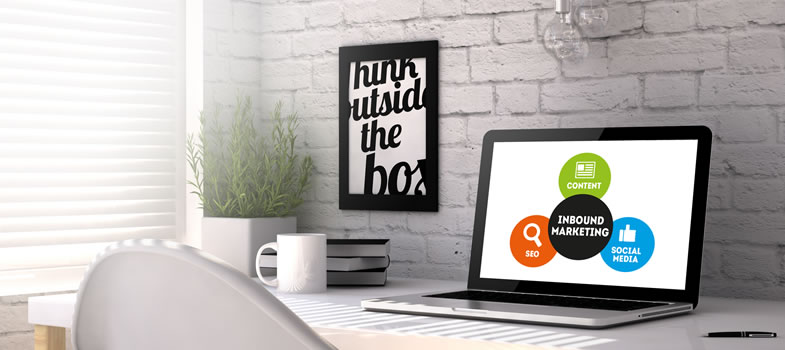 Editor's Note: We recently updated this previously published post with new insights. Enjoy!
You know you need to look for new customers. But most days, running your business leaves you with little time to try to grow your business.
Wouldn't it be great if customers were looking for you instead?
If that sounds like wishful thinking, you may want to consider the power of inbound marketing.
As the name suggests, inbound is the art and science of reconfiguring your marketing efforts to make your business so attractive from an SEO and content perspective that customers seek you out instead of the other way around.
This type of marketing is centered on creating marketing that people love. It's guided by the stages of the inbound marketing methodology, which aims to turn strangers into promoters.
Traditionally, the inbound marketing funnel has been the main model. However, Brian Halligan, the father of inbound marketing and co-founder of HubSpot recently unveiled a different model: the inbound marketing flywheel.
What's the difference between the two? And which one will align better with your business goals?
What Is the Inbound Marketing Funnel?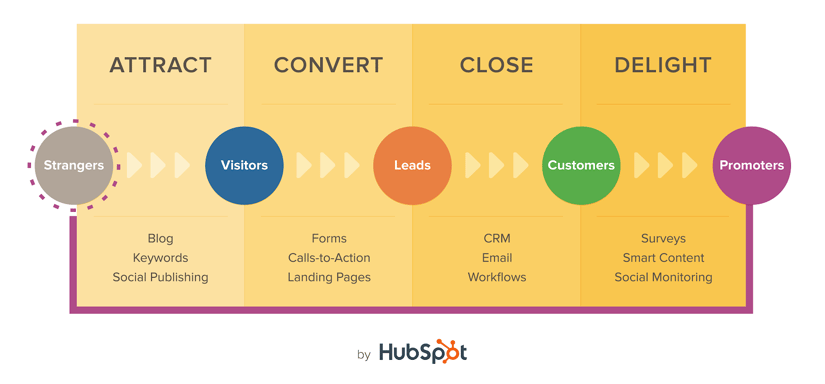 The inbound marketing funnel is the classic visualization strategy to help convert potential clients to leads, customers, and promoters. It consists of four stages: attract, convert, close, and delight.
Attract
The foundation of inbound marketing is attracting new visitors to your website and its content. Instead of intruding on potential leads with ads or unsolicited emails, the inbound marketing funnel attracts leads by providing helpful content that gives them the information they seek.
And how are they seeking information? By using search keywords. So, the linchpin of the attract stage is to figure out what your leads are searching for, and then create high-quality content that incorporates those keywords.
---
---
A sustainable way for companies to get that content on their site is to develop a consistent blog publishing schedule. Blogs are great for new site visitors, as posts are typically a relatively quick read.
Remember though: A blog aimed at attracting new visitors to your website should aim to educate, not sell. A key component of the inbound methodology is trust. If leads see you as a trusted resource, they'll gravitate toward your products or services. But you must earn their trust first by not coming on too strong.
Pro Tip: Besides blog posts, you can use other types of content to attract new visitors, too. Try creating pillar pages, ebooks, checklists, cheat sheets, or even case studies. It's all about providing the most helpful and effective content to your readers.
Convert
You've attracted visitors to your website! Great!
This is where a lot of businesses pat themselves on the back and call it a day, figuring that if the visitor is interested, they'll fill out the "Contact Us" form.
Inbound doesn't mean passively waiting for leads to beg you to sell to them, though.
Instead, turn your visitors into leads who can be nurtured, by getting their contact information. How? By offering them irresistible content in return.
A great way to do this is to add a call-to-action (or CTA) to a blog post or website page, leading to a form (either inline or on a landing page) that lets the reader download an in-depth ebook, insightful white paper, or helpful tip sheet. If this content offer is aligned with the blog or web page that your site visitor came to read in the first place (e.g. a compliance checklist that's tied to a blog about new regulatory requirements), it becomes a natural way to offer extra resources and increase your perceived expertise.
Close
Leads are wonderful, but customers pay the bills. Like a savvy inbound marketer, you dialed down the sales pressure in the early stages of attracting and converting, and it's finally your time to shine.
Now that your leads know what an expert you are based on your content, they're much more open to learning how you can help them solve their problems.
This is where content like case studies, product demonstration webinars, and comparative fact sheets can show leads why you're the best company for them.
Pro tip: How do you know what stage each lead is at? This is where a lead scoring system, either manually configured or automated via a marketing software like HubSpot, can remove the guesswork and help you target the right content to the right lead at the right time.
Delight
The fourth and final stage of the inbound marketing methodology may sound like a simple warm-and-fuzzy aspiration, but it's crucial to your ultimate success with your inbound marketing funnel. You're not just looking for satisfied customers (although you certainly want that), you're looking for delighted customers , the kind who are so thrilled by your combination of content and context that they become promoters of the products and services they love.
How do you delight customers? Here are some options:
Solve your customers' problems and help them reach their goals.
Refuse to squander your customers' trust.
Listen to customer feedback and be responsive when issues arise.
Show your customers that you value and appreciate their business.
This doesn't happen easily, and it doesn't happen overnight. Promoters become promoters because they're delighted and engaged on an ongoing basis, and that takes work and dedication.
Fortunately, the inbound philosophy is designed specifically to allow you to pay more attention to your ongoing relationships by freeing up much of the time and resources you might have spent trying to acquire those customers in the first place.
Pro Tip: Want to know for sure whether your customers are advocates for your brand? Consider running a Net Promoter Score (NPS) survey at least once a quarter. And above all, pay attention to the feedback you receive!
While there's much more to the inbound marketing funnel, these four stages (attract, convert, close, delight) form the backbone of the inbound marketing methodology.


---
Related Content:


Discover other key elements such as

buyer personas
and
buyer journeys
to help you better understand who you're trying to reach and what makes them tick.
---
What Is the Inbound Marketing Flywheel?
Although the funnel model served inbound marketers for many years, HubSpot realized that the funnel placed all the emphasis on leads — and treated the customer almost as an afterthought.
To remedy this, HubSpot created the inbound flywheel model specifically to keep customers at the very center of the strategy.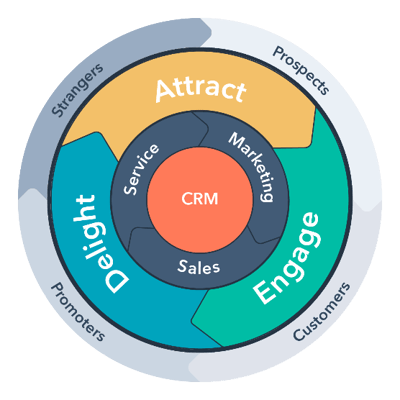 In the flywheel approach, the "Delight" stage from the funnel model is no longer at the tail end of the process, but instead is now a key driver that generates not only happy customers but also website visitors and sales-ready leads.
In this model, customer service is given much greater emphasis. In fact, the main focus of the inbound marketing flywheel is to remove as much friction as possible from the customer experience, turning satisfied customers into delighted promoters.
These promoters tell their friends and networks about your business, which in turn attracts new visitors to your site. Your content can then work its magic, engaging these referred visitors into prospects, leads, and ultimately customers themselves. As your exceptional customer service turns these customers into promoters, the cycle begins anew. The more delighted promoters you have, the greater your momentum and the greater your company's growth.
According to HubSpot, "Removing friction from your internal processes means you can spin your flywheel — and grow — faster. And most importantly, when paired with the inbound methodology, the flywheel reveals the importance of the customer experience. The "delight" stage powers the "attract" stage of the inbound methodology, because of course how you treat your customers affects what prospects hear about you."

Our own Beth Carter adds, "The inbound marketing flywheel is more simplified than the funnel. The flywheel combines the "convert and close" stages from the funnel into a single "engage" stage. The focus is less about how to reach customers and more about how to turn your existing customers into drivers of word-of-mouth growth."
Comparing the Inbound Marketing Funnel and Flywheel
So, which approach is better? There are pros and cons to each:
Pros and Cons of the Inbound Marketing Funnel

Pros
Cons

Linear design aligns well with the sales funnel.
Focuses more heavily on marketing.
Proven for many years to work.

Simple methodology that's relatively easy to understand and implement.

Fails to represent how customers can help business grow.
Momentum is lost at bottom of funnel.
No connection between sales, marketing, and customer service.

Pros and Cons of the Inbound Marketing Flywheel

Pros
Cons

Customers are central to everything.
Marketing, sales, and service are better integrated.
Removes friction from customer experience.

Strays from basic inbound methodology.
Oversimplifies the process of attracting website visitors and converting visitors into qualified leads.

Ultimately, comparing the two approaches can seem like an impossible choice. We were also curious what other marketers thought. We spoke to a few of them, and opinions were divided:

John W. Pearson, Content Marketing Manager from La-Z-Boy Southeast:
"We're big fans of the inbound flywheel because we recognize how sales, marketing, and service influence every stage of the buyer's journey.
The problem with the funnel is that it keeps sales, marketing, and service independent from each other. Marketing brings a lead in. Sales closes the lead. Service delivers the product, etc.
In reality, all three departments must work together to deliver an exceptional experience and help our business grow. For example, we've received hundreds of five-star reviews that mention our white-glove delivery service. When furniture shoppers read these reviews then visit our store, the service department plays a major role in bringing a lead to sales."

Nathan Dube, Digital Marketing Specialist:
"In my opinion they are two halves of the same coin. One compliments the other. The flywheel is a natural evolution from the funnel moving from the classic age of advertising to the current digital landscape."

Chris Zook, Marketer:
"I've worked in digital marketing for almost 10 years, and I can honestly say I don't think it makes a difference. It's just a matter of picking one. If someone wants to adopt one of the models for themselves, they should go for it.
Both are excellent ways to think about how a company can help people, which is the core tenet of modern marketing anyway. And both models help new marketers understand how their work plays into a company's overall success.
If you're choosing flywheel vs. funnel, the odds are strong that you've already decided you want to do something awesome. The rest is a matter of your dedication to your core customer and your intrinsic motivation to keep moving forward."
How to Know If You're Using the Inbound Methodology Correctly
Let's fast forward a bit. You've implemented the inbound methodology — either the funnel or the flywheel — but how do you know if it's working?
Here are some key performance indicators (KPIs) to measure at each step of the process:
Attract
The attract stage is important to both the inbound marketing funnel and flywheel, so you need to be doing it right. Attracting new audiences is all about creating helpful content and driving new prospects to your website. Use these KPIs to get you started:
Leads generated
Cost per lead
Website traffic
Conversion rates
Social media reach
Close/Convert and Engage
The close/convert (funnel) and engage (flywheel) stages of the inbound methodology help transform your leads into customers. Create a personalized relationship with your leads to provide even more content and resources. These KPIs are a few examples of how to stay on track during these stages:
Email open rates
Email conversion rate
Landing page conversion rates
Lead-to-quality-lead ratio
Delight
Once your client is a customer, it's all about making them as happy as possible. No matter if you choose to use the funnel or flywheel, the delight stage is focused on turning your customers into promoters with excellent customer service, personal follow-ups, etc. Achieve your goals with these KPIs:
Client satisfaction
Net promoter score
Reviews
Sales growth
Revenue per client
Inbound Funnel or Flywheel? It's Up to You!
The flywheel and funnel inbound methodology are two different but similar approaches to the same concept. Where the funnel is linear with four stages, the flywheel is circular with 3 stages. But they both do the same thing: create an inbound marketing plan designed to produce customers who are thrilled with your brand.
By experimenting with both the funnel and flywheel, you can discover what works best for your company. Whatever you decide, by learning more about each strategy and finding what works best for you, your customers will be seeking you out in no time!