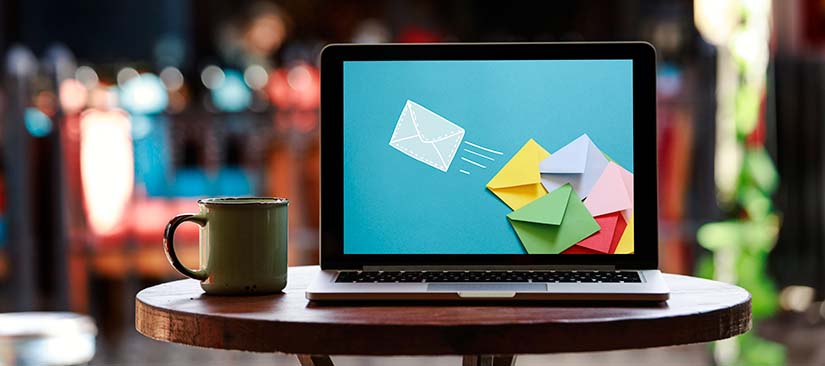 Let's get this out of the way: Yes, email marketing really does work. In fact, it's one of the content marketing tactics we help clients with the most, after blogs and online offers.
But people get so many emails every day, so why should they pay attention to yours? After all, we all have that friend or colleague (or are that friend or colleague) with 20,000+ unread emails.
That's where email newsletters can help … if they're well-written, that is.
A great email newsletter provides a one-stop-shop for your readers, delivering multiple messages and groups of content in a way that's readable and engaging. So, even your "inbox-infinity" recipients can quickly and easily catch up on everything without having to read multiple emails.
The best email newsletters, however, are the ones that stand out. They're the ones customers look forward to reading – and sharing.
So … how do you create a great email newsletter? By following these six best practices.
Before we dive in, let's look at how the best email newsletters can solve four of your biggest marketing challenges:
Why Email Newsletters Are a Slam Dunk for Marketers
Most used medium
Did you know that email users account for about 4 billion people? That's right around the number of Facebook and Twitter users combined. Additionally, the majority of Americans check their email all day, every day – often on multiple accounts. Mobile technology has made it nearly impossible to get away from email notifications. Email is seen, read and interacted with 24/7.
Creates the opportunity for personalization
Email allows you to segment to individual audiences and cater content based on their preferences.
At Clariant Creative, we do this quite often for our clients by creating different versions of their newsletters for different segments of their customers, whether by industry, company role, position in the buyer's journey, or more. You can even segment on something like desired contact frequency, so the folks who only want monthly contact receive a different newsletter than the ones who are happy with weekly emails, for example.
---
Related Content: How well is your email marketing working? Find out how to measure that.
---
Easily builds trust (when you don't send spam)
By talking directly to your audience and giving them exactly the type of content they want, email builds trust. And trust is the Holy Grail for building relationships. In fact, content marketers rate email newsletters as their highest performing content type for securing and nurturing leads.
The only caveat is to know how much is too much. Overdoing it with email is like leaving too many voicemails for a crush you just met – you're almost guaranteed to be ignored or even blocked.
Highly cost-effective
Email marketing is pretty inexpensive; the cost per message is calculated in pennies. That's good news for small businesses that have to make the most out of every marketing dollar. With very little upfront or maintenance costs, it's a tactic marketers would be silly to pass up.
Now that you know why email newsletters are a sleeper tactic for marketers, take a look at our six email newsletter best practices.
6 Email Newsletter Best Practices
1. Tell a story
People love a good story – they want to be drawn in and lose themselves in what they read. In fact, it's probably the only way you're going to get your customers to engage for longer than a few seconds.
Whether you share another customer's journey or your own, give your readers content they can sink their teeth into, using your buyer personas to inform the type of narrative your customers respond to. Create some drama and even suspense – extra credit if you can surprise them with an unexpected outcome or fact they just have to share with their thousands of friends on social media.
2. Have a point of view
This is where many of our customers get a little apprehensive (what if you make someone angry?), but it's important. Why? Because it helps your email newsletter stand out from the pack.
Have an opinion about the problem your company is solving. Why is this problem important? What would happen if it wasn't solved? Don't shy away from being a bit controversial when it comes to your brand – as long as you're thoughtful and respectful, a bit of boldness and integrity goes a long way.
3. Be personal
If we've learned anything in the last few years it's how desperately people crave belonging and connection. Gone are the days of impersonal brands. People want to see other people – using, talking about, reviewing your products and services. This is where the "letter" aspect of your newsletter comes into play. Personalize it, not just with their own name, but with stories and people they can relate to.
4. Create a connection
When we worked with one client to consolidate their all of their email offers into a single monthly newsletter, it wasn't just a matter of throwing disparate content into a template and calling it a day. Every month we have to look at each content offer, each story, each aspect of their service offering to combine those elements together into a cohesive, connected communication strategy.
Your email newsletter needs to feel like a unified piece of content where each segment relates to the rest. Trust us when we tell you that your customers are savvy. They can recognize the difference between a curated newsletter and a blog post roundup.
---
---
5. Make it easy to read
Aside from storytelling, you can also guide customers easily through your email newsletter by using action-oriented words and present-tense verbs – unless, of course, you're literally speaking about a past event.
Make sure to have an easy-to-find table of contents with hyperlinks. And optimize your newsletter for mobile devices, since that's where many of your customers will be reading it. Don't forget to include social share buttons under each story or segment of the newsletter so they can help you generate more leads.
6. Test and test again
Last but absolutely not least, you need to test your emails.
The best way to do this is through A/B testing, creating two versions of your newsletter that are different based on ONE element that you wish to test – from your button colors to your headline to your subject line.
Send out both versions to randomly segmented groups within your master list to get an apples-to-apples view of how well they performed with your target customers. (If you use HubSpot like we do, this process is super-easy.) Then, evaluate the data, make a note of what it's telling you about your audience, and tweak the email based on what you've learned to improve engagement.
The Best Email Newsletters for Your Audience
Setting up your email newsletter for the first time can feel like a lot of work. And it is – there are a lot of elements to think about if you want a newsletter that'll stand out and get people reading, clicking and sharing.
However, by following these best practices, you'll soon have a fantastic lather-rinse-repeat process that'll provide a lot of value for only a little effort – and an even littler budget. And your readers will have an email they truly look forward to getting.