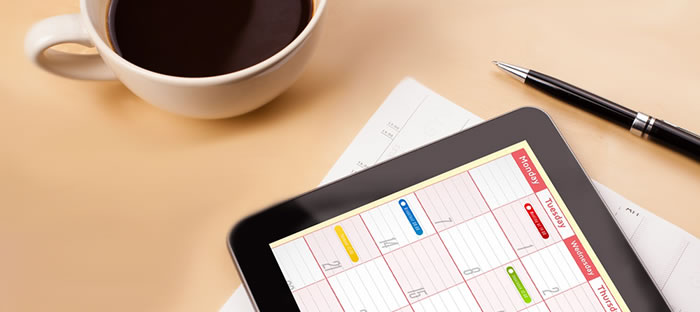 When I first started working in marketing, my blog writing process looked something like this: go to work on Monday, read industry articles to come up with a new blog topic, write the blog, make revisions and publish the next day.
And I did this over and over every week.
Occasionally, I'd think ahead and write down blog topic ideas for upcoming weeks. But most of the time, I was so busy sitting in on meetings, constantly updating the website and working on other projects, that I simply didn't have time to stay ahead of the game.
Over the years, I've learned that this is a common challenge for marketing teams. In fact, according to a survey by Gleanster Research and Kapost, managing the overall content process is the biggest challenge among businesses, and 36% of them said the lack of a centralized calendar was their top reason for missing deadlines.
Having an editorial calendar in place can make a big difference to the content process: 85% of marketing top performers managed an editorial calendar for content production. So, how do you go about developing an editorial calendar and making it work for your business?
What Is an Editorial Calendar, and Why Is It Valuable for My Business?
An editorial calendar is a timeline of what content you want to publish and when. Some teams use content marketing software to manage their editorial calendar; others simply set up a spreadsheet in Excel or Google Drive.
You can plan editorial calendars on a monthly, quarterly or even yearly basis. Personally, I love creating quarterly editorial calendars for clients – especially when the client is publishing blogs once or twice a week.
Creating an editorial calendar helps everyone – from writers and editors to marketing managers and executives – stay on the same page about all upcoming content marketing initiatives. An editorial calendar:
Makes publishing new content consistently seem more manageable
Lets you strategically plan your content rather than rushing to find topics last-minute
Helps you see the big picture of your content marketing initiatives
Helps save time and streamline the writing process
Makes collaboration among marketing teams easier
Helps you figure out what topics are — and aren't — working
Allows you to repurpose content and topics in the future
5 Tips for Creating a Successful Editorial Calendar
1. Include the Right Information
Editorial calendars vary from company to company, but here's some important information to include:
Topic/title
Target keyword(s)
Target persona(s)
Projected publish date
Offer/CTA
Additional details or notes
Depending on how many people are contributing to writing content, you may also want to include the assigned writer and initial due date.
2. Think Evergreen
Not every content topic needs to be time-sensitive. In fact, balancing timely material with evergreen content is a great way to bring repeat visitors back to your site. This helps make you a go-to resource year-round and takes off some of the pressure of creating real-time marketing content.
3. Plan Your Keywords in Advance
This may seem obvious, but too often, content calendars are created without keywords in mind.
Use a resource like Google Keyword Planner, SEMRush or HubSpot's keyword tool to see which keywords your audience is searching for along with the search volume and difficulty level. This ensures you're creating high-quality content that addresses your audience's pain points.


---
---
4. Get Input From Team Members
Developing new topics that are of interest to your audience is difficult – especially as the months go by.
While you may want to have one person in charge of organizing and updating your entire calendar, getting the entire team involved – including management, sales and marketing – with developing new topics brings a new perspective to your content marketing efforts and can help you brainstorm unique ideas you haven't covered before.
5. Be Flexible
Marketing can be unpredictable. Maybe a new product launches sooner than expected or your CEO comes back from a conference with great ideas and wants to author a guest post.
These are great reasons to make changes to your editorial calendar, and you should feel empowered to do so. Remember: Just because you've planned due dates and topics for an entire month or quarter doesn't mean you need to stick to everything perfectly.
Be flexible, and don't be afraid to accommodate spur-of-the-moment topics.
Getting Started With an Editorial Calendar
Creating an editorial calendar for the first time can be overwhelming and stressful (I know it was for me), but the beauty of these calendars is that they can be changed at any time. Keep it simple at the beginning, and eventually, you'll find the format and information that works best for you and your team.
If you could use some guidance on putting together a successful editorial calendar, the team at Clariant Creative can help. Reach out to us today to learn more!