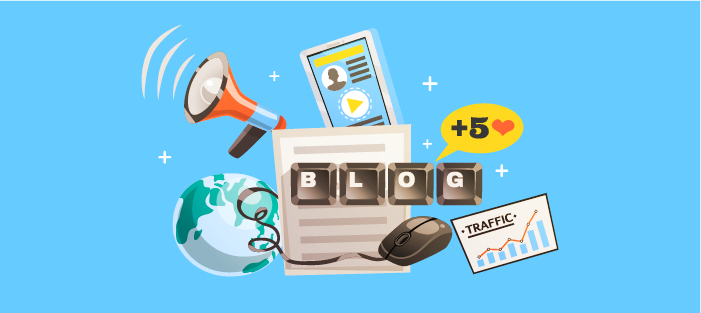 When I first started working in marketing, one of my primary tasks was to write blog posts. While this should've been easy enough, I quickly found myself asking a ton of questions – one of the biggest being, "How long should a blog post be?"
This is probably the most frequently asked question among bloggers, and yet the best answer I've gotten over the years is, "it depends."
Helpful – right?
The blogging and inbound marketing communities are often divided on the issue. Some say that the shorter the blog post, the better. While others are firm in their stance that blogs should be quite lengthy.
So, how long should blog posts really be? And how do you determine the right length for your next blog post?
Average blog post length: Longer is usually better – but not always
Do a quick Google search of "average blog post length" or "how long should a blog post be," and you'll see hundreds of articles telling you that longer blog posts are better, and that the average blog post length for articles ranking in the top 10 on Google is somewhere between 2,350 and 2,425 words.
The consensus on the Internet is that longer blog posts – specifically, those over 1,000 words – generally perform better, get more social media shares and are more likely to show up in search results. In fact, the average word count of top-ranked blogs on Google is 2,416. That's a lot.
There are several reasons why these extremely long posts perform so well, but it mostly comes down to the fact that long posts give Google more clues to determine what your post is about.
How so? Long-form content pieces tend to do a better job at answering a person's questions, which is exactly what Google wants to see. Also, with more text, more keywords will naturally be used – giving you the opportunity to rank for multiple long-tail variants of the keyword you initially selected for the blog.
Don't just take my word for it, though. I found some eye-opening statistics on the performance of long-form blog posts in search engine rankings, backlinks and social shares:
After analyzing over 6,000 of their blogs, HubSpot found that blogs between 2,250 to 2,500 words generated the most organic traffic.


The same study showed that blogs over 2,500 words were shared the most on social media and earned the most inbound links.


BuzzSumo's analysis of over 100 million articles shows that long-form content – specifically, 3,000 to 10,000-word content – gets more shares on social media.


WordStream increased their on-page time (from 1:33 to 4:35) and user engagement by incorporating long-form content on their blog.
However, it's not all good news with long-form posts.
Perhaps the biggest downside to blog posts with 1,000 words or more is readability. Longer posts need to be easy to read, otherwise, you'll lose readers along the way.
If you're going to incorporate long-form content on your blog, be sure to keep your writing clear and concise, break up the copy with sub-headers and use short paragraphs to prevent your post from becoming a wall of text that overwhelms the reader.
When are shorter posts better?
Let me be honest here for a second: I'm not sure I've ever written a 2,000+ word blog, and plenty of the blogs I've written for clients have shown up on the first page of Google.
Shorter blog posts can be effective. Just don't use that as an excuse to write fluffy 300-word posts all the time and call it a day!
While posts between 75-300 words can be a great tool for conveying company news or generating discussions, they're terrible for SEO. This is because Google considers blogs under 200 words to be "thin" content, which are pages that scammers can quickly publish at volume, that are typically full of spammy links or keyword-stuffed content.
At the very least, if you're going to write short blogs, try to hit the 300-word mark.
A post between 500-700 words is widely considered the "standard" length, and it's a good middle ground if you're looking to get more social shares and comments. It's not the best for SEO, but that doesn't mean it's impossible to achieve a first page ranking. I've seen plenty of 500-word blog posts rank well in Google search results.
Other factors to consider when determining blog post length
Ultimately, though, I find myself coming back to that standard advice: The length of a blog post depends on a variety of factors. Some of these factors include:
Goals. What are you hoping to achieve with this blog post? Do you want more comments? Social media shares? Traffic from Google? The goals for your blog post ultimately determine how long a post will be.

For example, longer blog posts (approximately 2,500 words) tend to get more traffic from Google while posts that are around 600 to 1,250 words get more social media shares.
Audience: Whenever you're writing a blog, always keep your audience in mind. How much time does your target persona have available to read a blog post? Do they even enjoy reading long blog posts, or do they prefer something much shorter?

Your content should always meet needs, solve problems and answer questions – but don't forget to cater the length to your audience, too.



Additionally, if you're trying to solve a very specific problem and it's an easy-to-answer question, you probably don't need thousands of words of content. But if you're trying to solve a complex problem and you have a ton of information to share that no one else has access to, you'll want a longer post to address that question.

Writing style. Maybe you have a more direct writing style and can do more with fewer words. Or, you might be extremely conversational and long-winded. Your writing style influences the length of a blog post.
Medium: When you post content like infographics or videos, the word count of your blog doesn't matter as much because the focus of the post is on the media rather than the words you write.


Time. The time you have available every week to write blogs ultimately impacts how long the posts can be. And yet, even if you don't make the time for blogging, your competitors will.


---
---
Takeaway: find your sweet spot
It seems there's no easy answer to the question "how long should blog posts be?" But the upside is that you get to decide what works best for your business. Experiment with different blog post lengths, and find the sweet spot that's right for you.
Remember: Not all blog posts have to be the same length. Some of your posts may be just 500 to 700 words while others tip the scales at 1,500 words or more, and that's perfectly okay. In fact, variety is a great way to keep your readers engaged and your content fresh.
So, it turns out that the answer to the question about how long a blog post should be really is simply "as long as it needs to be to get your point across."
Want more help writing the perfect blog post? Download our Blog Post Templates for eight creative, proven, ready-to-use formats that will help you start writing amazing content immediately!