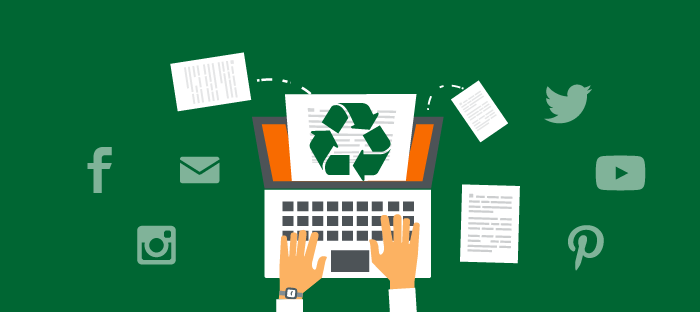 As content marketers, we spend most of our time thinking about new topics for new content. And yet, in our rush to fill out our editorial calendars, it's easy to forget about all that fantastic content we've already published.
Which is a shame, because recycling isn't just good for the environment — it's great for content marketing, too.
By repurposing older content ("repurposing" is the content marketer's fancy word for recycling), we can make sure we're still getting as much bang for our content bucks as possible.
But, like with anything marketing, there's a catch: It's important to bring a fresh perspective to the existing content. It's also helpful to think strategically about new platforms that might be a good fit for our content.
Further down in this post, we'll explore 10 ways to effectively and efficiently repurpose and recycle content. But first, let's look at why repurposing makes good business sense.
What are the benefits of repurposing content?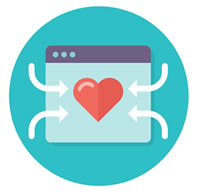 It's easy to think of repurposing content as taking the easy way out — just moving a few sentences around or brainstorming a new headline — but that couldn't be further from the truth. Repurposing offers you the chance to give old content new life, by adding more value and purpose to an existing piece and ensuring this great content isn't buried and forgotten in your archives.
In fact, repurposing content is not only less expensive than creating new content, it also frees you up to concentrate on other important aspects of your business while you help your content work harder for you. For example:
Boost poorly performing content. Did you write a great piece but feel it didn't get the attention you thought it deserved? Modify it for a new platform where it might be a better fit.


Increase quality backlinks. By publishing repurposed content outside your website (think Instagram or SlideShare), you can create quality backlinks that increase traffic to your site.


Reach new audiences. When you publish on new platforms, it's with a specific goal in mind: Finding customers where they like to be. Some are Snapchatters. Some love podcasts. As Michael Brenner, CEO of Marketing Insider Group says, "multichannel marketing … provides the content our audiences are searching for, in all the places they search."


Raise your industry profile. The content you publish should always serve to increase your authority on a topic. Repurposing content on multiple channels can help show you're an industry expert.
Identifying content that's worth repurposing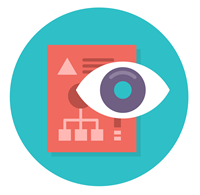 Just because you have plenty of old content doesn't mean all of it should be repurposed. You need to be smart about what you choose to repurpose.
Review your existing content and ask yourself three important questions to find the right candidates:
Is the content evergreen? Look for high-value material that is still relevant and that you'd like to bring new audiences to.


What topics have been popular? Identify your top performers over the last year.


What content can you improve upon? Has any new research come out to support an existing content piece? Have you learned anything new about a topic? Is there a new perspective you can add to something you've already said?
How to repurpose your content
You've now identified some solid repurposing candidates, but don't start tweeting or pinning just yet. You want to repurpose content the right way. You need to first understand what to change, and then you need to strategize where to publish it.
So let's get started. Here are 10 ways to update and optimize your content so it's ready to be shared on new platforms.
Blog posts. Sometimes, the easiest way to start is with what you already know: blogging. High-quality content can generate new high-quality content if you think strategically about how to improve:



Refresh any statistics cited in the post


Update the post with new internal links to any new posts you've published


Review your SEO to see if you should optimize the post for different keywords


Update your graphics if they're dated


Update your call-to-action if you have new content offers


YouTube and Facebook Live. A 2014 Syndacast report predicted that in 2017, 74% of Internet traffic will be video. Consider turning a blog topic into a webinar to demonstrate your expertise on the subject. Broadcast the webinar on Facebook Live, and publish a recording of the webinar on YouTube.
Continuing the video theme, take a few talking points from an old post and create a one- to two-minute Instagram video. Or, post a short clip from the webinar you create above. Don't forget hashtags, and share your post on your other social platforms to keep driving interest.


---
---
Turn posts or excerpts from premium content offers into visually appealing images that summarize the content into a few impactful pictures. Look for statistics, facts and how-tos. Publish your infographic all over your social media profiles, including Instagram or even Pinterest.


We're all on the go these days, which explains why podcast listening grew 23% between 2015 and 2016. Starting a podcast can be as easy as simply transforming existing content into a script.

Repurposing pro tip: Each podcast episode can in turn lead to a new blog post — including a transcript as part of the content. How's that for repurposing repurposed content?


Have an e-book that could benefit from a boost? Create a slide deck with statistics and actionable advice. Be sure to add graphics and break down the information into small chunks. And don't forget to add relevant tags to make it easier for readers to find your piece.


Guides/e-books. If you have several pieces of related content, combine them to create one longer piece. Add new photos and additional research to tie everything together, and then create an attractive landing page to help capture leads.

Repurposing pro tip:

Post previews of the content on your social media channels to pull readers to the landing page.
This platform is great for "how to" and list materials, so turn these types of blog posts into "instructographics" — i.e., how-to infographics. These graphics are highly sharable and can help drive referral traffic to your original blog post.


Odds are, some of your posts have tweetable elements. Tweet out compelling statistics or quotes from your older content, or turn "featured images" on your blog posts into Twitter-friendly images with captions.


E-mail. Take your best performing articles and transform them into an auto-responder lead-generation email campaign. Create a subscription box to your website specifically for the email series, add some catchy subject lines and create a weekly send schedule, and you can quickly create a new content offer that attracts new leads – all with minimal effort.
Maximize value with content recycling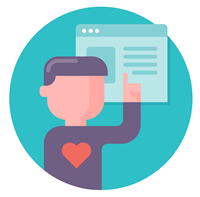 By now, you should be abuzz with ideas about how you can repurpose your content to extend your audience reach and get additional value from the work you've already done.
Publishing older content in new ways and on new platforms is simply smart content marketing – but be sure you're maximizing your opportunities. Don't overlook updating your titles, descriptions, tags and other meta information. They're the key to attracting the right audience. And, of course, don't forget to link back to that original piece of content you worked so hard to create.
Done well, your repurposing efforts should help you squeeze every last bit of ROI from all of the content you produce. Bringing new life and added value to your best work: That's the beauty of repurposing.
Are you looking for ways to bring new audiences to your content? Download our free e-book, The Power of the Press: The Inbound Marketer's Guide to Building a Brilliant Public Relations Strategy!