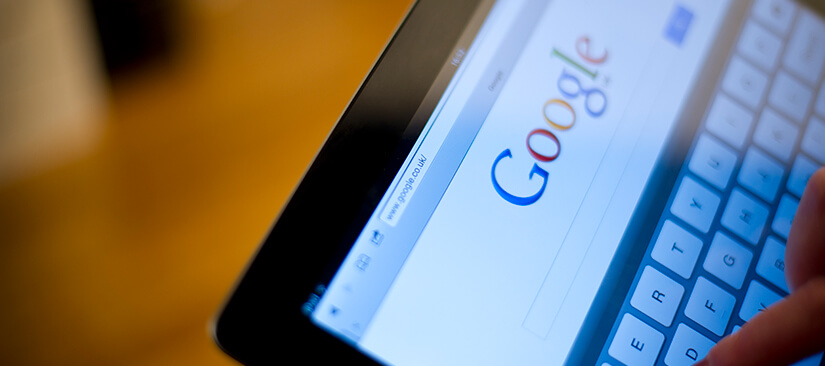 What does your 2020 SEO strategy look like?
Google updates their ranking algorithm frequently. But with all that's been going on this year, it may be hard to commit time and energy to keep up with these constantly evolving SEO best practices. Fortunately, some quick SEO tips can make a big difference. You just need to know where to start!
So … what's changed since our last SEO tips post in 2018?
First and foremost, Google has rapidly developed new technologies and approaches to natural-language processing. Google's goal is to enable people to search for things in a way that feels natural to them – which will be a huge relief to everyone who uses voice-assistant compatible devices like Siri on iPhones and Alexa on Echo devices to conduct searches. As a result, Google keeps getting better at understanding the context of what a searcher is looking for, so that the search engine results pages (SERPs) deliver exactly what the searcher wants.
Note: If you really want to geek out on SEO, check out this article from Pandu Nayak, Vice President of Search at Google, on Bidirectional Encoder Representations from Transformers, called BERT. It's impressive.
For search engine marketers, this focus on user intent means if you want your content to rank well, you need to understand what your searchers really want – and you need to make sure your content delivers it.
Another big change is the increased impact that page experience has on search engine rankings. Because people vastly prefer websites that deliver a great page experience, Google has been busy adding a variety of user experience criteria to their ranking algorithm, including mobile-friendliness and how quickly pages load.
As Google explained in a May 2020 announcement:
Great page experiences enable people to get more done and engage more deeply … By adding page experience to the hundreds of signals that Google considers when ranking search results, we aim to help people more easily access the information and web pages they're looking for, and support site owners in providing an experience users enjoy.
Yeah, we know, all of this is a lot for marketers to consider. Even if your content is useful and well-written, is it optimized in a way that Google will reward?
That's where our SEO tips come in.
We know you've got a lot on your plate right now, so we've compiled 12 quick and up-to-date SEO best practices you can implement without necessarily investing a ton of blood, sweat or tears. The good news is that even making small changes to how you optimize your content can have a big impact!


Quick SEO Tips to Win With Google in 2020:
Check your UX pulse with Core Web Vitals.
Build variety into your keyword strategy.
Keep search intent top of mind.
Drop the stop words in your URLs.
Write more accurate meta descriptions and page titles.
Format posts for featured snippets.
Level up your almost high-performing content.
Repurpose older existing content.
Add engaging thumbnail images to videos.
Build backlinks organically.
Make sure your website mobile and desktop versions match.
Follow mobile site image best practices.
1. Check your UX pulse with Core Web Vitals.
With page experience becoming such an important ranking signal, Google has thrown marketers a bone with a new tool – Core Web Vitals – that will help you measure the load time, interactivity and visual stability of every page on your website. This is the perfect place to start with your revamped 2020 SEO strategy. After all, before you know what you need to fix, you have to first know what's actually broken.
2. Build variety into your keyword strategy.
Historically, marketers have optimized web pages around specific high-search-volume keywords and blog posts around lower-volume, long-tail keywords. These days, that distinction is blurred. Instead, strive for a healthy mix of both across all your site. Additionally, to meet the growing popularity of voice search, look for opportunities to work in multiple variations of your keywords, including synonyms and related keywords, for the best results.
Tools like SEMrush and Moz can be very helpful when giving your keyword list a refresh. Or, try Google Autocomplete or Google Suggest for free ideas.
3. Keep search intent top of mind.
We already know that Google is getting really good at figuring out user intent to deliver the most personalized and relevant results. Interestingly, the format of your content plays into that relevancy. For example, someone searching for "best laptops under $1,000" will probably rather see a listicle blog post evaluating different laptop models – not specific laptop product pages.
Optimize your content for user intent by looking at the search results for your target keywords and see what content pops up most. This will help you figure out which of the four major types of search intent your content falls into, so you can format it to rank higher.
4. Drop the stop words in your URLs.
Common filler words like "of," "or" and "the" take up valuable space in your URLs. This makes it harder for both readers and crawlers to skim quickly and can cause lags in your page loading time. Try to keep these stop words out of your URLs unless they are a necessary part of your keyword, and limit your URLs to no more than 100 characters.
5. Write more accurate meta descriptions and page titles.
Google has recently updated their search results page to 600 pixels, allowing for longer titles and descriptions on both desktop and mobile. However, be careful with this. Nothing is more frustrating for a searcher than clicking on a link that looks promising, only to realize the content is not at all what was promised page title and meta description.
Instead, use the extra space to add LSI keywords that describe your content more effectively, so your searchers are crystal clear on exactly what they'll get when they click on your link.
6. Format posts for featured snippets.
The top-ranking spot on SERPs is no longer search result #1. Instead, Google's Featured Snippets — which show up after ads but before organic results — are the new prime position. There are several ways to land a featured snippet spot, but one of the best ways is to answer a keyword query directly in your content.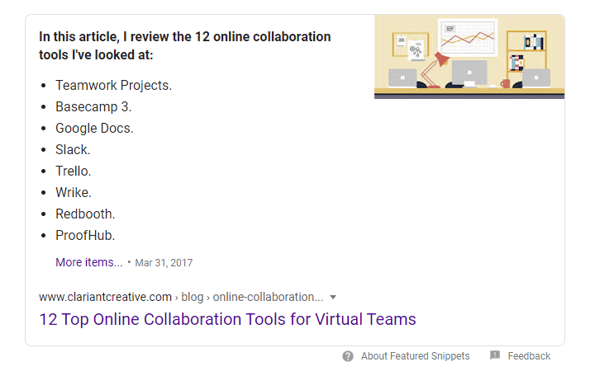 Search tools like AnswerThePublic or the "People also ask" section in Google searches can help you understand exactly what questions people are asking with regard to your chosen keyword. Answer those questions with succinct, clear, self-contained paragraphs and you're more likely to gain that coveted featured snippet.
7. Level up your almost high-ranking content.
Review your content analytics and identify posts that are doing okay with traffic but aren't as popular as your highest-ranking ones. (A great way to do this is to set up an advanced filter on Google Analytics to show how your keywords are ranking in SERPs.)
Are there any low-hanging fruit opportunities to level up that so-so content? Can you update any of the information with new links or resources? Can you add new content to make the post more in-depth? Can you incorporate more engaging graphics and imagery to help illustrate any of the point made in the post? Sometimes all it takes is just a little love to see substantial SERP improvements.
8. Repurpose older existing content.
To continue with this theme of levelling up your SEO strategy, now is a great time to rework your older content, especially if the topics are still relevant to your audiences today.
For example, consider turning an existing blog post into a new video that provides an engaging summary of the key points. Combine multiple blog posts on the same topic into a new ebook that offers a more comprehensive look at the topic. Or take inspiration from the super-popular MasterClass program and turn those blog posts into a series of on-demand, self-paced learning modules. The only limit here is your own creativity!


---
---
9. Add engaging thumbnail images to videos.
Thumbnail images are the first thing people see when your video is indexed and have been showing up more often in Google searches. Sites like YouTube generate their own previews, but you also have the option to create custom thumbnails. Your thumbnail image should be high-quality and accurately reflect your video's content to increase engagement and clicks.
Image thumbnails can also enrich other types of content in search results, like web pages and blog posts.
10. Build backlinks organically.
Backlinks, or inbound links, are still an important part of SEO ranking. But rather than falling into the trap of paying for links via black-hat tactics, instead always be looking for opportunities to create new backlinks organically. Examples of organic backlink building might include:
Sign your business website up for high-ranking, authoritative online directories like Crunchbase, co or Google My Business.
Convert mentions of your brand on other websites by reaching out to those companies, publications or writers who have referred to you or your business and ask them to link back to your site.
Ask a client or industry expert if you can feature them in a blog post or case study – and (if they say yes,) once it's published, link to their website and encourage them to add a link on their website back to your content for cross-promotion.
11. Make sure your website mobile and desktop versions match.
Google will be switching to mobile-first indexing for all websites beginning September 2020. Now is the time to examine the desktop and mobile versions of your website to make sure all copy and content, including text, images, videos and links, are the same on both versions. Use Google's URL Inspection Tool to see if there are any pressing discrepancies you need to fix.
12. Follow mobile site image best practices.
In addition to #11, you'll also want to optimize all website images for mobile-first indexing. Make sure all images are the proper size and resolution, and that all your formats and tags are supported on mobile. Also, double-check that all alt text, image titles, captions and file names match what's on the desktop version of your site. For more SEO tips, here's Google's full guide of mobile-first indexing best practices.
So, there you have it: 12 of our favorite quick SEO tips for 2020. It's no understatement to say that 2020 has been quite the year so far – and we're only just past the halfway point! While we can't predict what crazy new things the rest of the year has in store for us, we can at least make the process of getting found in the search engines a little easier for you. Incorporating even a few of these best practices into your SEO strategy could be just the fuel you need to pull ahead of your competition and stay on top of your market, no matter what else this year tries to throw at you.