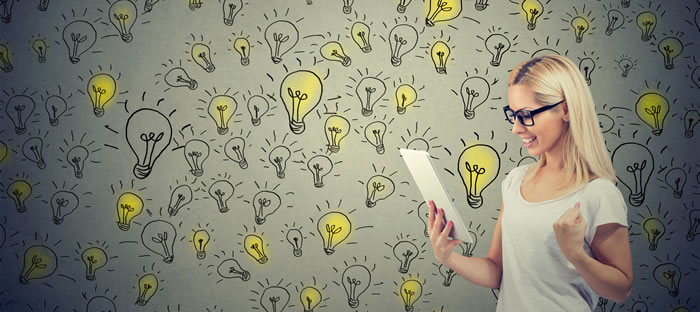 Just last week (and the week before that and the week before that), you were working hard on writing blog posts that will attract visitors to your site and convert them into leads. Mission accomplished. Fast-forward to this week, and you have yet another blog post assignment on your to-do list. The topic? You rack your brain for ideas. Nothing. You marvel at how some companies regularly produce content — and great content at that — when you're struggling.
You're not alone: 57% of B2B marketers say that producing content consistently is their biggest struggle.
Instead of looking at that blank screen as a threat, look at it like a blank canvas: full of possibilities and opportunities. You just have to know where to find them. Let's look at 16 ways content marketers can quickly (and painlessly) discover, research and develop the winning content ideas that engage readers, resonate with customers and complement existing content strategies.
1. Alltop
If you're looking for a quick answer to "what's happening in my industry," Alltop has it. The site collects and displays the five latest headlines (and introductory paragraphs) from top blogs and sites to help you decide if you want to read more. This site is not only great for idea generation, but it's also perfect for identifying trending and popular topics.
2. Brainstorming
Whether you're brainstorming in a conference room-based session or on a Trello board of topics, let the ideas flow without judgement. You never know where an idea will lead, so treat every idea as a good idea. Wait until later to evaluate their actual merit as part of your content strategy.
3. BuzzSumo
Enter keywords in BuzzSumo's search feature to see trending topics — giving content writers myriad ideas for their own content. This tool also offers statistics on social media engagement, displays backlinks and shows how content is performing — giving you unique insight into the type of content that's working for your competitors.
4. Industry conferences
You can get a ton of great blog content ideas from the industry and marketing conferences you and your team members attend. Pay special attention to:
Agendas. If agenda topics are interesting to conference attendees, they're also likely to be interesting to your readers. Take these hot topics and create content around them.
Roundtable discussions and Q&A sessions. Think of these gatherings as a brainstorming event with leading industry professionals. Listen for questions that come up more than once — because chances are, your readers are also interested in the answers.
5. Customer questions and reviews
Does your customer service department routinely receive emails from customers that ask, "Can your product help me do X, Y and Z?" Consider developing content around these frequently asked questions. You might also get content ideas from reviews left on your site — like how your product solved a problem for a customer.
SEO Bonus: Reading your product reviews are also a great way to see what language your customers are using and how you can incorporate that wording in your content.
6. Google
Google handles more than 1.2 trillion search queries yearly, making it a smart resource to discover what people are searching. Here are four great ways to use Google searches to generate content ideas:
Search box suggestions. As you type a keyword, notice the search suggestions that appear. They're not all useful, but some give insight into the questions users have.
Related searches. The bottom of many search pages will have a list of related searches that might prompt new content ideas.
Trends. Wondering what today's trending stories are? Google Trends lets you search by category, timeframe, keyword and location to show interest in a topic and related queries.
Keyword Planner. Find out how often keywords are searched, get suggestions on related keywords and find the long-tail keywords that are relevant to the products and services you offer.


---
---
7. Blog topic generators
Type a single noun into HubSpot's Blog Topics Generator, and you'll immediately get a week's worth of blog topics — plus, they give you a catchy headline!
When we entered "blogging," we received these results: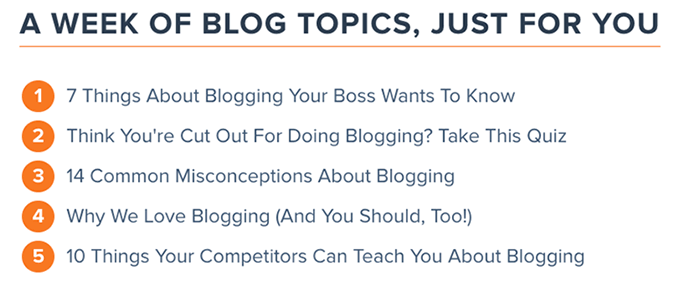 8. Forums
General Q&A forums like Quora are a treasure trove of content ideas. Just type in a topic, keyword or industry and you'll find a wealth of information about what people are interested in, want information on or have problems with. Plus, these sites will give you a unique perspective on your topic and develop the content that connects with your target audience.
9. HARO
Help a Reporter Out (HARO) is more than just an opportunity to increase your company's exposure by being quoted or featured in a publication. It also lets you see what topics are being covered in the press and online content.
10. Industry statistics
Follow Statista, Nielsen and industry-specific organizations to keep your finger on the pulse of your and your clients' industries, and use trends and statistics to create new content ideas.
11. Industry publications
What do your readers like to read? What websites do they visit? (Hint: You should already know the answers, based on the buyer personas you've developed.) Look at the posts and articles with the most engagement — the most comments, follows, shares and likes — and create relatable new content around these topics.
12. Swipe file
Inspiration can strike at any time, so every content creator should keep a swipe file for ideas. Swipe files can be as simple as a notebook in which you write down potential content topics or well-written pieces you've seen. You can also create an electronic swipe file using platforms like Pocket, Trello or Evernote. (The latter even offers a browser extension that makes adding to your swipe file as easy as a right-click.) Some of these tools also have mobile apps, making it easy to capture great ideas as they happen.
13. Ubersuggest
Simply type in a keyword, and Ubersuggest offers a multitude of keyword ideas. While the results aren't always as robust as those in Google Keyword Planner (regarding search volume and competition), it does generate plenty of content ideas. You can even easily export the list to a CSV file to save for future use.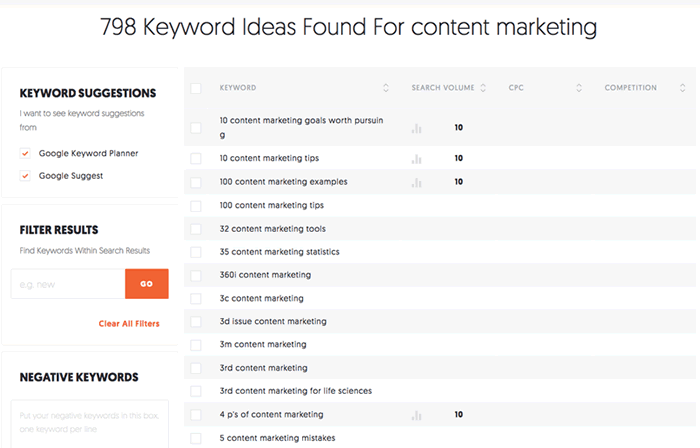 14. Webinars
Webinars are a popular way for industry influencers to communicate with their audience. What topics are popular in your industry and are being covered by webinars? Look at ways you can leverage that popularity for yourself.
15. "You may also like" suggestions
Many popular sites end their articles with the suggestion to visit other popular, relevant pieces. Look at what these publishers are promoting. It can yield important clues about what your buyer personas find important and what questions they want answers to.
16. Your own posts
You probably don't think to look at your own blogs for inspiration, but it's a great place to look. What has been the most popular content on your own site? What topics get the most views, shares or conversions? Repurpose that content into quizzes, infographics, offers and social media posts.
Idea generation is easy when you know where to start
What happens after you've used these tips to develop your list of new content ideas? While you may be eager to jump in and start writing, don't start that new blog just yet. Take some time to go through your list and identify the topics that are most relevant to your personas. Ask yourself, "Which topics will interest them, answer their questions and solve their problems?" That's where you'll want to start.
When you're looking in the right places, coming up with content ideas never has to be difficult. The 16 tips we've mentioned here will not only help you find interesting topics, but they'll also let you find relevant topics that increase traffic and conversions.
If you're just getting started with your business blog, we can help there, too. Download our set of free Blog Post Templates and jumpstart the writing process!