In 2016, ClearSale was the unequivocal ecommerce fraud prevention leader in Brazil. They knew they could be wildly successful in the U.S., too, but the path was steep.
The U.S. competition was well-established. No one in America had heard of ClearSale. And ClearSale's U.S. marketing team consisted of … one person. Could ClearSale make it work?
Challenge accepted – and goals crushed.
This is a story of how ClearSale found three specialty agencies willing to band together to build a wildly successful inbound marketing strategy. Fast forward to today, and ClearSale is now a publicly traded company and has been recognized by G2 as a leader in the U.S. market. But why stop at the U.S.? We're deploying our repeatable, scalable inbound marketing strategy – all powered by HubSpot – in markets around the world.
Here's how we did it.
People Strategy
Early on, Sarah Elizabeth Zilenovski, head of ClearSale's U.S. Marketing Operations, decided not to hire full-time, in-country marketing staff, preferring to leverage the expertise of agencies.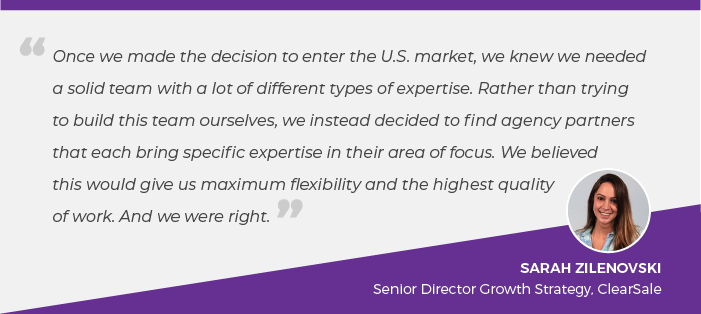 ClearSale already enjoyed a relationship with Epic Digital, a Brazilian digital ads/SEO/development agency. But ClearSale also needed to make a big splash in the U.S., so they hired Moss Networks, a California-based PR agency specializing in the payments industry. Moss Networks, in turn, realized ClearSale would need to build a body of thought leadership content. That happens to be our agency's specialty, so Clariant Creative was brought on board.
This created a uniquely collaborative environment: Each of the three agencies focused on a specific area of expertise, which enabled us to collectively deliver results far greater than any of us could have delivered alone.
Technology Strategy
Before producing any work, we needed the right marketing technology – and HubSpot's Marketing Hub provided all the right functionality to fuel our growth. Critically, using HubSpot also ensured each agency had the data necessary to measure impact and optimize strategies.
Clariant Creative spearheaded the implementation, and within weeks we were up and running.
PR Strategy
ClearSale's first priority was to build brand awareness where none existed.
The team at Moss Networks immediately set to work on an aggressive PR strategy, including monthly press releases, pitches to top media outlets, and active pursuit of speaking engagements at industry events. Within just a few months, they landed a key mention in TechCrunch, giving ClearSale instant credibility.
Where We Are Today
The Moss Networks team has capitalized on their early wins with ongoing media coverage that has consistently built a stellar reputation for ClearSale throughout North America while also generating critical backlinks from high DA sources.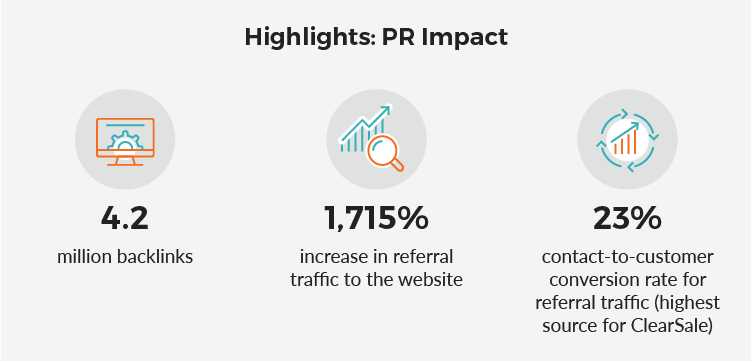 ClearSale is now regularly featured in Forbes, Entrepreneur, Digital Commerce 360, Merchant Fraud Journal, Total Retail and more – driving brand awareness and helping fill the pipeline with educated, engaged, ready-to-buy leads.
Even better, media and industry influencers now seek out ClearSale for timely insights on the fraud prevention market.

Content Strategy
While the Moss Networks team was building ClearSale's external reputation, Clariant Creative began producing content for ClearSale's website. We carefully strategized this content to:
Attract qualified visitors.
Convert those visitors into leads.
Generate more sales-ready conversations for the sales team.
Our plan included twice weekly blogging, one gated content offer per quarter, monthly email campaigns, and marketing automation to nurture the leads generated by these campaigns. We leaned on HubSpot analytics to tell us which blog topics generated the most traffic, which content offers generated the most leads, and which nurture campaigns contributed to the most closed deals.
Where We Are Today
By 2020, the blog was generating 20,000 website visits/month. And we've never lost our focus on connecting content to revenue.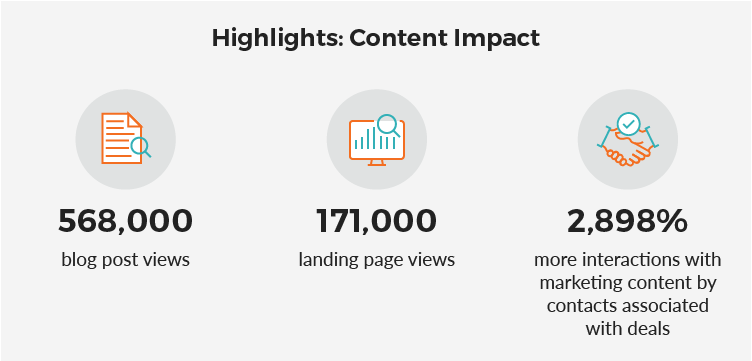 In 2022, we're tightening up our content strategy to emphasize quality of website visits over quantity. We now target all content to two key buyer personas – enterprise businesses and small to medium-sized businesses (SMBs) – and we've heavily expanded our production of bottom-of-funnel content. This has allowed us to create a more "self-service" buying experience for SMB buyers and more productive sales conversations for enterprise buyers.

Advertising & SEO Strategy
In those early days, it was vital to swiftly start generating leads for the U.S. team. Epic Digital was tasked with building a digital ad strategy to bring conversion-oriented traffic to the website — quickly.
Epic's initial concern was to identify high-converting, buying-intent keywords. Would the keywords for the U.S. market be the same as Brazil?
Epic soon found that buyers in the U.S. do in fact use different words to describe ClearSale's offerings. This insight enabled Epic to optimize both ClearSale's ad strategy and organic SEO strategy.
Where We Are Today
Epic has now led three major website redesigns for ClearSale in 2016, 2017, and 2021. This has consistently increased the number of keywords the website ranks for, which in turn has increased total website traffic and total leads generated by the website.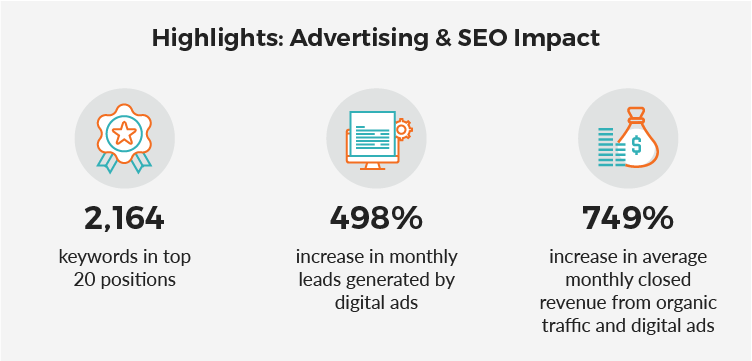 Organic and paid traffic now account for approximately half of all leads generated from inbound sources. Lead quality continues to improve as well; deals sourced through digital ads close 151% faster than deals sourced by the sales team.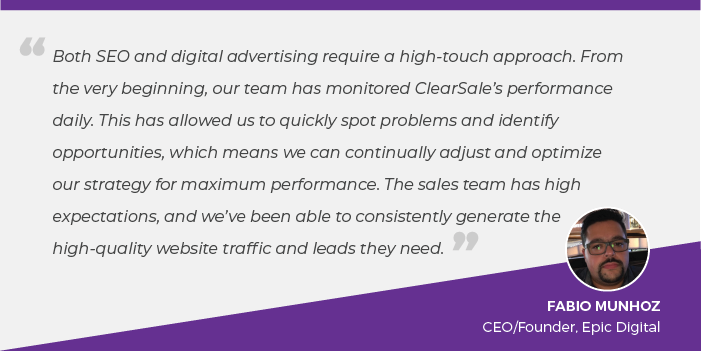 Tremendous Results, Massive Impact
Since those early days in 2016, we have generated tremendous growth for ClearSale across all our marketing KPIs – as best evidenced by these three charts: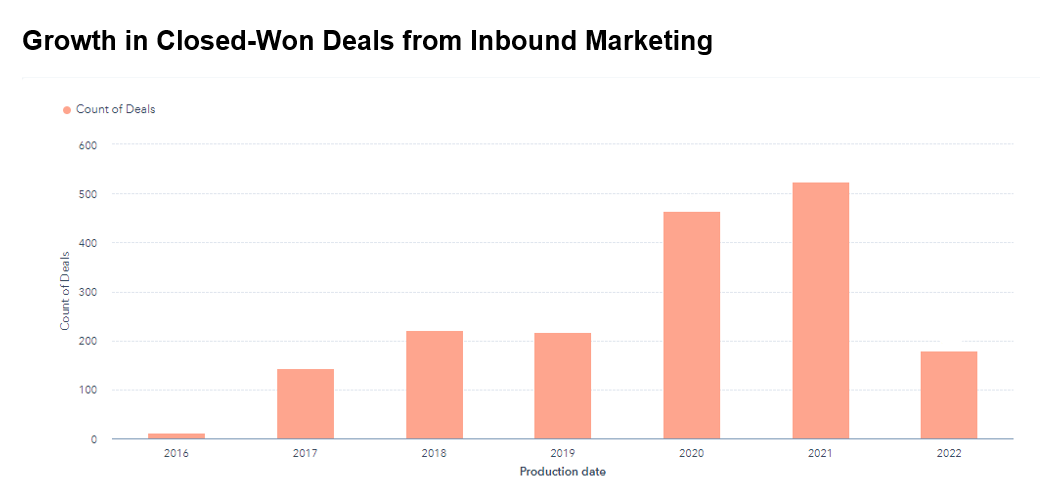 G2 Recognition
By 2021, we had officially arrived: G2 named ClearSale the leader in fraud detection software.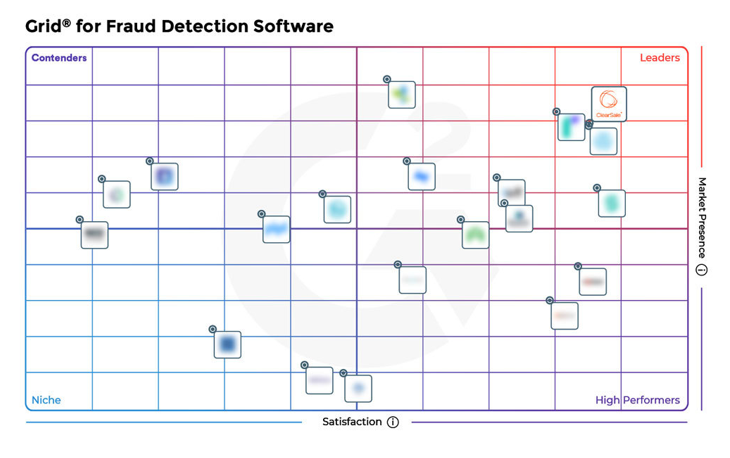 Brazil IPO
Another major milestone also occurred in 2021: ClearSale became a publicly traded company on the Brazilian B3 stock exchange, with an IPO that raised an astonishing USD $254 million. This was a career highlight for the team, and many of us shed a proud tear at the news.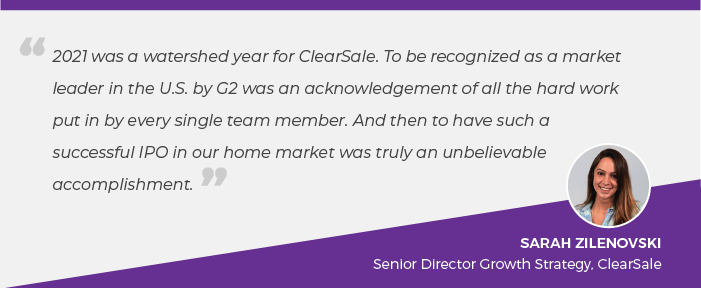 Team Expansion
With all this growth, Sarah is now heading a fourteen-person team responsible for cracking open the Latin America market, and senior vice president David Fletcher now leads the sales and marketing team for the rest of the world. And our tight-knit agency collaboration continues to flourish and drive impact.
So, what's next for ClearSale? Everything!
We're now deploying our repeatable, scalable inbound marketing strategy in markets worldwide. The sales team is regularly invited to participate in deals with the world's most well-known brands. And we continue to adapt and pivot our strategy to deliver ever-improving, sustainable – and now global – results.