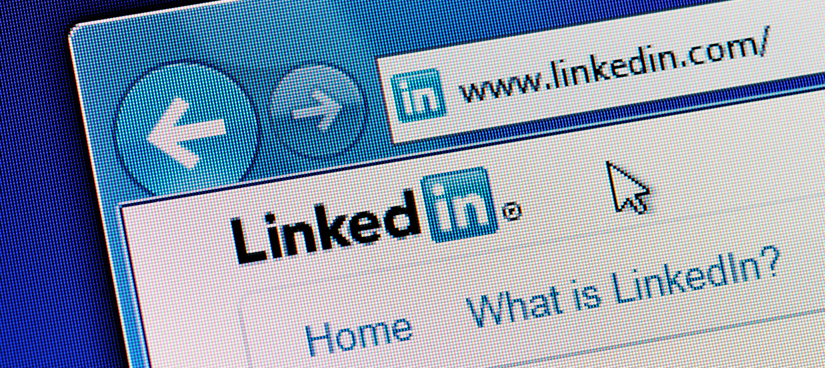 For most people, LinkedIn is a tool for staying connected with others professionally, or perhaps for finding a job. Marketers tend to think of LinkedIn as the B2B equivalent of Facebook – in other words, good mostly for sharing content and building communities (without the selfies and pictures of what people are eating).
But how many of you think of LinkedIn as a vehicle for B2B lead generation?
You might want to rethink your answer: LinkedIn represents 80% of all B2B leads generated through social media. With the ever-growing amount of demographic data contained within LinkedIn, you'd be hard pressed to find a better option for reaching both broad audiences and niche targets. And as LinkedIn continues to expand its offerings and products for B2B marketers – for example, the new hashtag communities, options for native video, and ongoing updates to group and company pages – the ability to grow audiences within specific verticals is nearly limitless.
But what if you're looking to accelerate that growth with paid advertising? LinkedIn ads come with a robust suite of advertising options and features to help you directly reach your audiences. And yet, despite these newer and flashier options, my favorite lead generation tool in LinkedIn remains the classic text ad. I find this tried-and-true approach still one of the more budget-friendly ways to serve impressions to the specific audiences you want.
To illustrate the power of LinkedIn text ads, let me walk you through a recent campaign I created for a client in the aerospace industry. The results we achieved with simple text ads were phenomenal – generating 57% more leads than our goal, at a 33% lower cost per lead.
Here's how we did it.
Choosing our offer
If lead generation is your goal, your offer will form the foundation of your ad campaign. You need a compelling reason for leads to provide you with their email addresses – which means you need to offer them something that delivers significant value, and something they're actively searching for or thinking about.
For my client's campaign, the aerospace market was facing a new set of regulatory standards that would affect all manufacturers in that industry. My client and I decided to develop a series of white papers and webinars explaining these new standards, starting with a high-level white paper that we would advertise on LinkedIn via text ads.
Choosing our ad format
The great thing about digital advertising is the immediate feedback you receive. Because of this, it's easy (and highly recommended) to test different versions of your ads, so you can determine with certainty which specific ad strategies generate the strongest results.
In this instance, we knew up front we wanted to test a wide variety of creative options for our campaign, and text ads gave us the most flexibility to do so.
I kicked off our campaign with ten ad variations that incorporated different images, copy and CTAs. I developed each ad with a specific audience segment in mind, to help me drill down and find the strategic approach that would provide the most conversions.
Identifying our audience
When selecting audiences to target on LinkedIn, I find it best to put in some time researching any data available on that audience before launching the campaign. This helps bypass that sense of "feeling around for the right audience" that can happen if you're not properly prepared, and instead lets you focus immediately on finding your highest-converting segments.
Fortunately, my client had great data on our audience, including well-organized lists of individuals who had attended previous training courses on aerospace regulatory compliance. These lists included names, companies and job titles, which enabled me to create very specific buyer profiles to target during our campaign. This also allowed me to compare how well different audience segments converted, which meant I could quickly eliminate ads to the underperforming segments and focus our budget on the highest performers.
Additionally, because the new regulatory standards only affected U.S. aerospace manufacturers, we excluded suppliers, non-U.S. companies, and other non-relevant segments of the industry. And because we were targeting B2B leads, we set our ads to run Mondays through Fridays, from 7:00 a.m. to 5:00 p.m. EST. These factors helped us keep our campaign narrow and focused, thus keeping our overall cost low.
Setting our budget
To determine your budget for LinkedIn advertising, it's helpful to first put that ad spend in context. I like to consider several questions before spending even a single dollar:
Does this ad campaign need to drive brand value, in addition to leads?

Can we achieve our lead generation goals with our available budget?

Do we have a process in place for managing the leads we generate?
Does this ad campaign need to drive brand value, in addition to leads?
Although you could make the argument there is branding in almost any marketing effort, for your LinkedIn ad campaign, think about ways you can build brand value with your ads.
This is why I often prefer to run my ads on a cost-per-impression (CPM) basis rather than cost-per-click (CPC). I find the average CPM on LinkedIn is competitive with Google Ads – but gives me a better ability to target audiences within a specific industry.
For my client's campaign, we wanted our client's brand to become the brand associated with these new regulatory standards, and specifically for our client's brand to be thought of as the top provider for issuing certifications for the new standards. Therefore, paying for impressions rather than clicks made the most sense for this campaign.
Additionally, to help maximize our brand value, we also placed ads in targeted industry publications.
Can we achieve our lead generation goals with our available budget?
As with any marketing campaign, this should be weighed ahead of time to help you decide if a particular platform or ad space is worth the time and investment.
In this case, I worked with my client to set a budget of $2,000 for an eight-month campaign, during which time we hoped to generate at least 100 downloads of our white paper. This translated to a projected $20 cost per lead. This amount might be a bit high for a small business, but it isn't unreasonable for a larger company like my client.
Do we have a process in place for managing the leads we generate?
The unfortunate truth is that marketers don't always have full control over lead management. On more than one occasion, I have seen marketing qualified leads handed over to sales teams who did not quickly – or sometimes at all – follow up on the leads. I have also seen marketing departments take the blame for these failures.
And yet, marketers can still wield significant influence. One thing I find helpful is to establish a process for lead follow-up ahead of time. This can be a great opportunity for the marketing team to highlight best practices for the sales teams on how incoming leads should be handled, including timelines and goal-setting. It's just good housekeeping that can save you potential headaches down the line.
For my client's campaign, having the lists of individuals who had attended previous regulatory training helped us focus our follow-up: Any lead from this list who also clicked on our ad was immediately designated as a marketing qualified lead and passed on to the sales team with priority status.
Our follow-up didn't stop there. I also carefully reviewed the data on all leads who downloaded our white paper, to see if I could find any commonalities. It turned out that many of these leads had job responsibilities that included a specific aspect of the new regulatory standards. This was an important insight! We immediately set about creating a new webinar that dove deeper into this particular requirement, and we promoted the new webinar directly to these leads. This resulted in a higher-than-average turnout for the webinar, as well as an above-average view time across all attendees.
Our LinkedIn ad campaign results
Here are our final campaign numbers:
| | | | | | | |
| --- | --- | --- | --- | --- | --- | --- |
| Spend | Impressions | Clicks | CTR | CPM | CPC | Downloads |
| $2,092 | 1,639,288 | 1,046 | .06% | $1.28 | $2.00 | 157 |

Although we spent slightly more than our intended budget due to a strong final day, we crushed our most important goals: total downloads, cost per lead and brand value:
Whereas we had hoped for 100 downloads, we blew well past that with 157 downloads.

With our total ad spend of $2,092 for those 157 downloads, our cost per lead was only $13.32 – 33% below our target of $20 cost per lead.

At a cost of only $261.50 per month for eight months, this campaign delivered brand awareness to a targeted audience for over half of a calendar year.
We were also thrilled with our $1.28 cost per impression (CPM), which is substantially below the estimated $8.39 average CPM on LinkedIn.
And best of all, the leads we generated were extremely high quality, which I believe is a testament to the power of the LinkedIn platform. While LinkedIn often gets a bad reputation for advertising due to its frequently higher costs versus Google and Facebook, the quality of B2B leads generated by LinkedIn ads are typically much higher, due to the professional nature of the LinkedIn user base.
Are LinkedIn ads the right platform for you?
Depending on your goals, LinkedIn alone may not be enough to meet all your advertising needs. However, if you know the audience you want to reach, and you have identified reasonably achievable KPIs, then LinkedIn can indeed become one of your highest performers. In fact, for B2B marketers seeking lead generation and brand value, LinkedIn might very well be the premiere vehicle out there at this time.
If you think it might be time to expand your presence on LinkedIn and incorporate LinkedIn ads into your marketing mix, having an experienced partner to guide the way can help. Let's talk!
If you want a few extra tips on social media marketing for your business, this Beginner's Guide to Using Social Media might be for you!