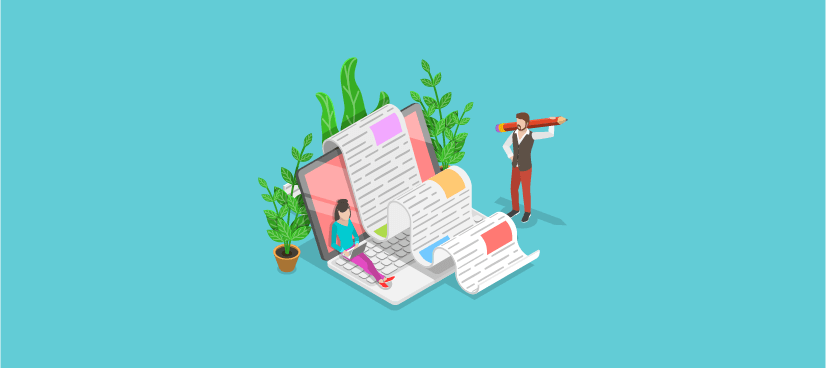 At Clariant Creative, we regularly write pillar pages for our clients (and for our own marketing, of course). So, we love looking at pillar page examples for inspiration, seeing how other agencies and marketing teams are making this powerful piece of content work for them.
Then we figured, why not share some of the pillar pages we've created, and – even better – dive under the hood of what makes them work?
The first thing to keep in mind, however, is not all pillar pages are created equal. You can't just write a 5,000-word blog and call it a pillar post.
What makes a pillar page different from a blog? A pillar page is unique in that it needs to:
Serve as the foundation for a topic cluster,
Answer the main questions your target customers have about that topic, and
Entice those potential customers to dive deeper into your cluster content.
Ultimately, your pillar page should establish your company or brand as the thought leader on that topic. By creating an interconnected network of information and insights, you can provide a definitive guide on that topic to potential customers.
Before we dive into the examples, it's important to know the key elements that make a great pillar page, so you can more easily choose which pillar pages deserve that coveted spot in your swipe file. (And if you don't already have a bookmarks folder of amazing content examples, the pillar pages below will make a great start.)
How Do I Create a Pillar Page?
This article covers examples, but for more guidance on
how
to create a great pillar page, check out our "
Guide to Pillar Pages and Topic Clusters
".
What Makes a Great Pillar Page?
Depth and Breadth
A great pillar page should cover a topic broadly enough to support a good amount of blog posts (eight to 22) that offer more detail on specific aspects of the topic. This is your cluster content that allows your reader to dive down the rabbit hole into specific aspects of the overarching topic. If you're struggling to come up with at least six or seven blog posts that dive deeper into the topic, it may mean your pillar page topic is too narrow.
Your pillar page should also address the basic questions a reader would have about the topic – at least at a high level – and should address the problem that led them to search for that topic in the first place.
Easy to Skim
On average, readers spend between five and 10 minutes reading a blog. When your blog is a pillar page and over 7,000 words, you need to make it easy for readers to skim your content and find what they're looking for.
Separate your pillar page into chapters with section headers and a table of contents. Assuming you created an outline for your pillar page, this should be relatively simple. Keep in mind that your readers are searching for something specific. Make the process of finding it quick and easy, so your pillar page reads like a helpful resource, not a thesis.
Google Optimized
Long-tail keywords are being used more and more in internet searches, especially as people use voice search more frequently with their digital assistants. In fact, half of search queries are at least four words or longer. One way to help make sure that readers find your pillar page in their searches is to use a question-and-answer format. Questions can be packed full of long-tail keywords. They also help optimize your pillar page for Google Featured Snippets.
Simple Navigation
Great pillar pages are easy to navigate. Think about how you can make it simple for your readers to move through your content. Do this with a variety of elements, including:
Hyperlinked table of contents, either at the top of the page or floating on the side of the page, so the reader can quickly navigate to whatever portions of the page are of most interest to them.
"Back to the top" or "Back to the beginning" navigation hyperlinks or clickable arrows at the end of each section or chapter.
Hyperlinks to link related sections within your pillar page.
A progress bar that gives the reader an idea of how much is left for them to read.
Written for Readability
The more readable your pillar page, the more likely readers will dive into the page content and your network of blogs. Visualize information with tables and graphs, create call-out boxes for quotes and important points, and make your page as interactive as possible with scrolling and other elements.
When it comes to your content, lean on these tips to increase readability:
Vary sentence structure to include short sentences, compound sentences, and clauses.
Vary paragraph length. Paragraph after paragraph at the same length quickly becomes boring.
Make use of bullet points and numbered lists for more complex ideas.
Use transition words and phrases to connect paragraphs smoothly.
Use active voice as much as possible.
---
---
5 Great Pillar Page Examples
Now that we've done that refresher, let's look at some of the pillar pages we've created – some for ourselves, some for clients – that we're especially proud of. We'll start with a few Clariant Creative pillar pages.
Clariant Creative Pillar Page Examples
In our buyer personas pillar page, you can see that we cover the broad topic of buyer personas, identify the customers' problem, and begin to answer their questions within the first few paragraphs:
There's nothing more frustrating than spending time and money creating and launching content, only to hear … crickets. Getting a prospective buyer's attention is harder than ever, due to the sheer volume of content out there.
So how do you stand out ? By making sure you tailor your content toward the right people – the ones who stand the best chance of loving (and buying) what you have to offer.
The question is: Who are these people?
That's where buyer personas come in.
Move the cursor down on the pillar page and you'll find the table of contents, which is hyperlinked. This allows the reader to move to any "chapter" within the pillar page.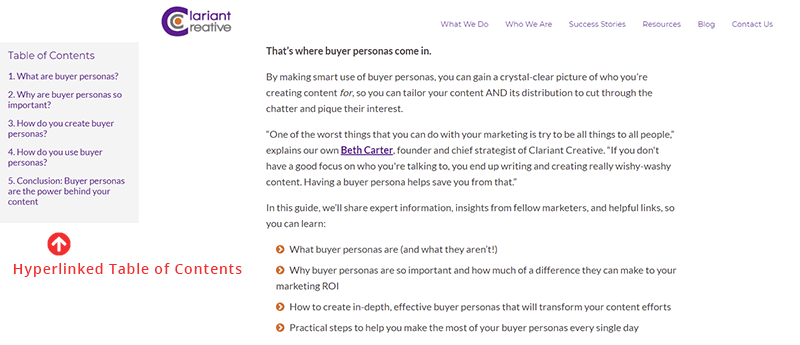 Also note that the format for the pillar page is question-and-answer. This provides good alignment with long-tail keywords around this topic. The keyword for this pillar page is "buyer personas," which you can find throughout the content.
We take a similar approach to the Q&A format in our content strategy pillar page, and we added a step-by-step guide. Note the arrow on the lower right corner of the screen. That allows for easy navigation so readers can skip backward and forward within the pillar page.
You can also see in our pillar pages that we use numbered lists and bullets, as well as rich visual images and infographics. These elements contribute to content organization and readability.
Callouts create an opportunity to highlight key points and answer the bigger, more important questions about the topic.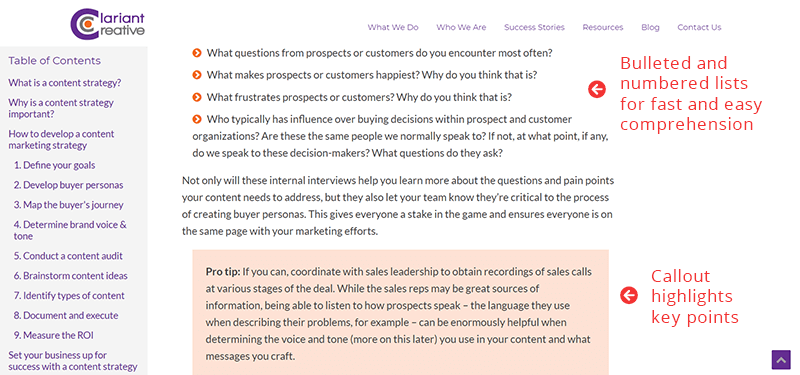 This podcast pillar page example shows how you can create a tutorial that naturally facilitates hyperlinks to numerous blogs and other topic cluster content.
Sentence and paragraph structure and length vary in this pillar page. And we use headings to help the reader skim and navigate through the content.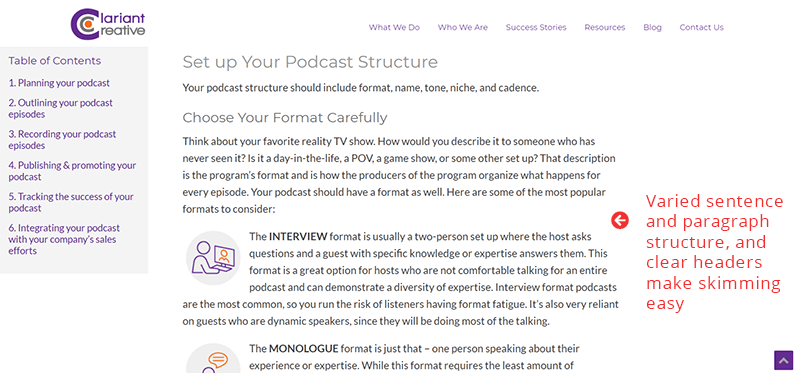 The same principles apply when we create pillar pages for our clients.
Clariant Creative Client Pillar Page Examples
4. 2021 Global Ecommerce Consumer Behavior Analysis


In this pillar page example, we broke down the results of a consumer behavior study pertaining to ecommerce. The table of contents on the left side of the screen tracks progress as the reader moves through the pillar page. The format has a similar cadence to question-and-answer and how-to formats, but it focuses on key results as section headers.

Readers enjoy infographics, bulleted and numbered lists, and a range of sentence types – from simple to compound to questions. All of these elements make this pillar page easy to navigate and read, making it simple to find information or statistics.

Two visual attractions in this pillar page are the use of graphs and quotes highlighted with headshots. Both help to reinforce the content being presented and offer a level of intimacy that adds to readability.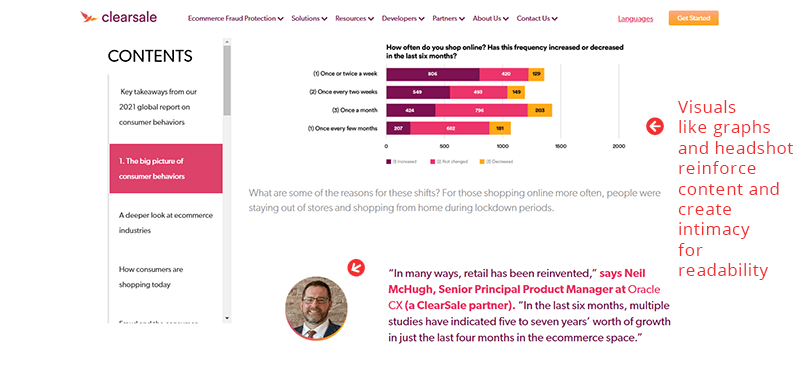 5. Best Practices for Workplace Wellness Program Success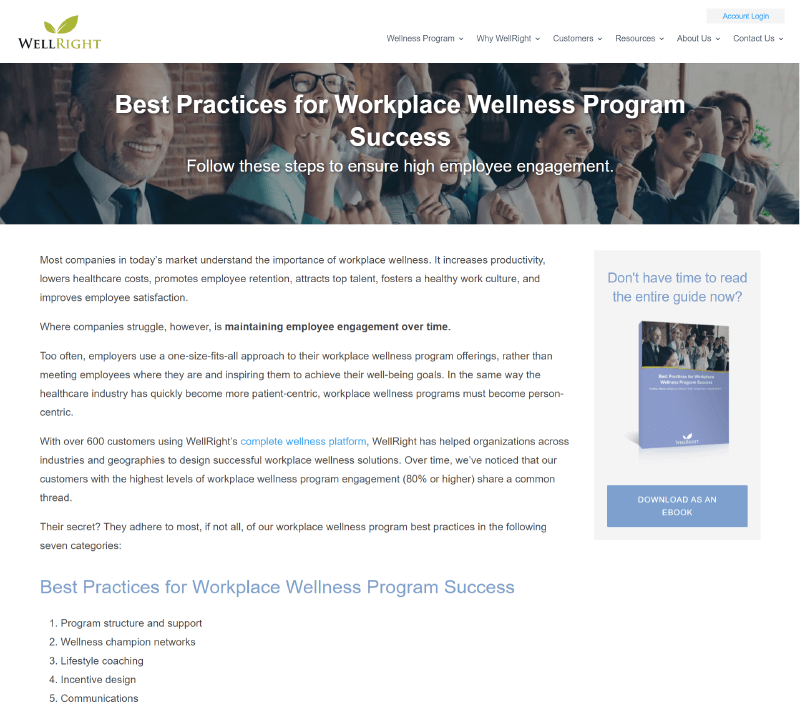 Not every pillar page needs to look or function exactly the same. Use your company's brand guidelines and style preferences to make sure your pillar page works within the context of your website.
Some great pillar page examples like this one demonstrate how you can use a variation on the traditional table of contents for navigation. In this pillar page, we used an accordion structure with the ability to expand each chapter individually by clicking on the plus sign. This makes it easy to find the specific section they want to read without having to scroll.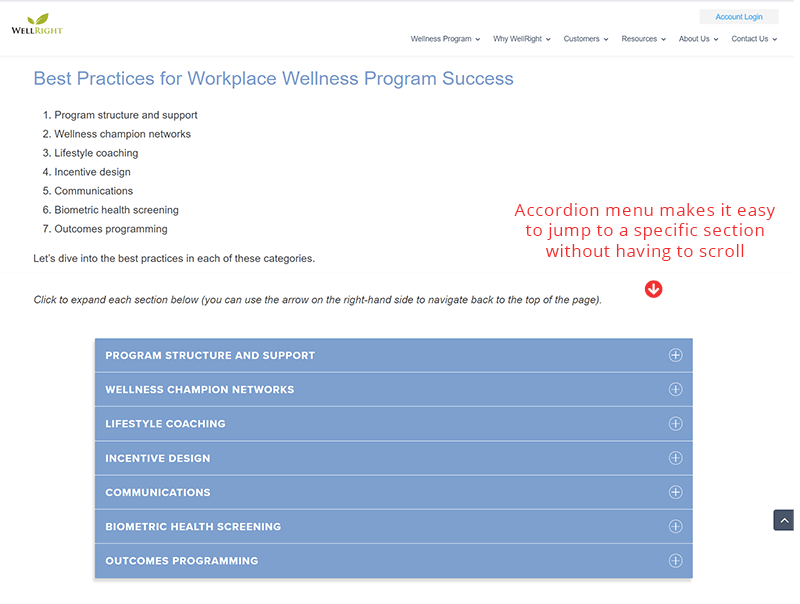 Creating a great pillar page that offers a library of information about topic clusters takes work, but it pays off when your target customers begin to see your company as the "owner" of that topic. This level of subject matter expertise helps you move customers through the buying process to more sales.
If you'd like to talk with an inbound marketing expert about creating topic clusters and pillar posts for your website, the Clariant Creative team is here to help. Simply reach out to us, and we'll be happy to offer our thoughts.