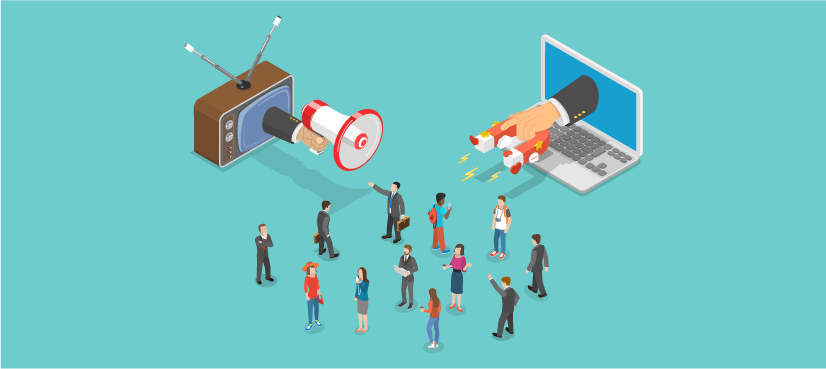 Why are marketers constantly talking about inbound and outbound marketing? Isn't marketing all the same?
Well, not exactly.
The mindset, strategies and implementation of inbound marketing is vastly different from outbound marketing. Understanding the benefits and drawbacks of both marketing strategies is key to determining your overall marketing mix and getting ahead of the competition.
What is inbound marketing?
Inbound marketing pulls people in to your business.
The mindset behind inbound marketing is to earn brand awareness and build trust with potential customers by providing them with immense value up front.
Typically, this is accomplished by offering useful content – such as a blog or ebook – while prospects are searching for related information to the solution you provide.
For example, if prospects are searching Google for "blue running shoes", which you sell, the inbound marketing approach might be to provide useful information on your blog all about blue running shoes. Your content is specifically designed to attract qualified prospects to your website, offer visitors with useful information – giving your business the opportunity to convert leads into customers.
This approach helps to guide a customer through the buyer's journey by providing them with the answers they're looking for, when they're looking for them.
Why is inbound marketing so popular? It's a powerful long-term approach for beginning and nurturing a relationship with a relevant audience, while providing value every step along the buyer's journey.
---
---
Advantages of inbound marketing
With inbound marketing, you're able to pull in users who are actively searching and interested in the information you're offering.
After all, the thirst for relevant information is never quenched. By creating content that lines up with your customer's interests, you can attract near- or in-market visitors to your website.
Another advantage is how you'll be perceived by your target audience. When you provide useful and actionable content, visitors take notice. Your brand can grow naturally by ranking in Google and word of mouth referrals, and so can your company's recognition and authority within your niche. Many successful companies, such as BuzzSumo and Ahrefs, have built widely known and trusted brands due to the immense value they provide online through their inbound marketing content.
What is outbound marketing?
Outbound marketing is what's typically referred to as traditional marketing.
Traditional marketing is centered around paid advertisements. This might take the form of cold calling, TV advertising, direct mail, radio ads, or print media – essentially, any company-initiated broadcast would fall under this strategy. In the digital age, these ads might come in the form of pop-up ads, PPC campaigns, or banner ads.
Outbound marketing is the process of pushing your brand's message out to your target audience, even if they're not actively looking for your products or services. This approach has a company seeking out and targeting potential customers, instead of letting clients come to you.
Why is outbound marketing so popular? It's an immediate, hyper-targeted and scalable approach to get your message seen, creating awareness with people that may benefit, but not yet know about your business.
Advantages of outbound marketing
One of the most valued aspects of outbound marketing is its targeting capabilities, especially when it comes to online outbound marketing.
Only want to show your ad to single moms who love Rob Lowe and live within a 25-mile geography of your brick-and-mortar business? Who knows why you'd want to do that, but you certainly can target that audience – no problem.
Outbound marketing offers the ability to set targeting restrictions based on a number of factors, such as demographics, geography, interests, and behaviors. This allows advertisers to target only the audience they select, which is a main reason why online advertising is such a popular method for lead generation.
Outbound marketing is also relatively easy to measure success, as advertising campaigns attribute dollar amounts to sales to simplify ad tracking.
When to use inbound marketing vs outbound marketing
Now that we've covered what inbound marketing and outbound marketing are, as well as advantages of each, let's look at three factors you should consider when investing in each marketing approach.
Budget
Launching a holistic inbound marketing campaign can be extremely cost-efficient. In fact, HubSpot reports that businesses experience a 61% lower cost per lead when they're focused on inbound marketing. One possible reason for this is the long-term, compounding value of building a relationship with your prospects, leading to word of mouth and search engine visibility.
By contrast, outbound marketing is pay to play. While the upfront and constant costs of outbound marketing's pay per click approach might appear to favor inbound marketing's cost-efficiency at first glance, it's not necessary to pick one strategy over another. In fact, well-rounded marketers are more likely to integrate both strategies to yield a better return than either approach could yield alone.
For example, a holistic campaign might begin with paid advertising to reach a highly targeted audience, and then nurture that audience down the buyer's journey with helpful content, such as an ebook or series of killer blog posts on a relevant topic. By combining both push and pull marketing strategies, you give your brand a powerful opportunity to begin a two-sided conversation with your prospects. Additionally, outbound marketing can also assist an inbound-first strategy by sending remarketing ads directly to people who have engaged with specific pieces of inbound content on your website.
The net result of combining both approaches is a highly customized and scalable approach that is both budget-conscious in the short term, and profitable over the long term.
Time
Outbound marketing excels at delivering results, in as little time as possible. While creating useful content takes time to write and get noticed by search engines, advertisements are immediate. Ads bring eyes to your products and services the minute they go live.
Which strategy is best when time is your largest concern? I'll repeat, combining both strategies together are typically more effective than whole-heartedly choosing one approach.
Let's say you've paid to have a booth at a relevant trade show. That would fall under outbound marketing, as you're paying for the opportunity to engage with a specific audience. So how can an inbound strategy assist in speeding up your sales funnel? With enough planning, you could bring and hand out an industry-specific white paper or ebook to every attendee at the trade show.
Marrying inbound marketing best practices with an ad-heavy approach is tremendously useful for facilitating sales conversations with prospects that may have become introduced to your business due to push or outbound marketing. With consistency, the seamless coordination between inbound and outbound will shave a ton of time off of any traditional marketing plan.
Sustainability
How sustainable is inbound marketing and outbound marketing?
Both strategies need resources – whether it be time, effort, budget, or knowledge. Creating content might require you to hire writers, graphic designers, social media specialists, or other positions in creative fields. Outbound marketing might require gaining a deep understanding of how ads are priced or hiring traditional or digital media planners and buyers to your team.
Both strategies can be sustainable. And yet, both will require constant effort on your part to maintain any level of success. With that said, experienced marketers can attest to the fact that mixing inbound and outbound is ultimately more sustainable over the long haul.
The clear winner? Integrate both.
Without a clear understanding of your unique priorities, it's hard to know which marketing approach is best for your business. And you don't need to pick one over the other – it's often a best practice to combine both methods in tandem, as advertising strategies can be built around improving the profitability of inbound campaigns.
See how your marketing strategy stacks up with our marketing reporting template. The free templates will help you justify your marketing ROI and understand where you can make improvements.