You work hard to develop content, attract leads and convert new clients.
Unfortunately, so does your competition.
That's why it's smart to keep track of what they're doing. With the right approach to competitive analysis, you can find out:
What content are your competitors developing, and how popular is it?
What keywords are they targeting? Are they beating you in the rankings?
How many backlinks do they have and how valuable are they? Do they have backlinks you haven't thought of?
How successful are they on social media?
How are they handling media and public relations?
When you monitor your competitors, you give yourself the opportunity to get out in front of whatever the other guys are doing. It's also a great way to uncover new ideas for your own media and PR, content creation, SEO and social media.
To be complete, every marketing strategy should include competitive analysis.
But where to start? There is a lot of stuff out there to help you spy on your business rivals.
We've rounded up the 8 most useful competitive analysis tools, so you can get a head start on upping your game online.
Clue in to Content
Tool: Buzzsumo
Price: 14-day free trial; Buzzsumo Pro costs $99/month
The heart of content marketing, of course, is content. For a comprehensive look at the content your competitors are publishing, check out Buzzsumo.
Search your competitor's website and see which content gets shared most frequently on Facebook, LinkedIn, Twitter, Pinterest and Google Plus.
To walk you through an example, let's say we're HubSpot. And let's say that we wanted to check out the content that Marketo, one of our competitors, produces.
Here's what we'd find with Buzzsumo: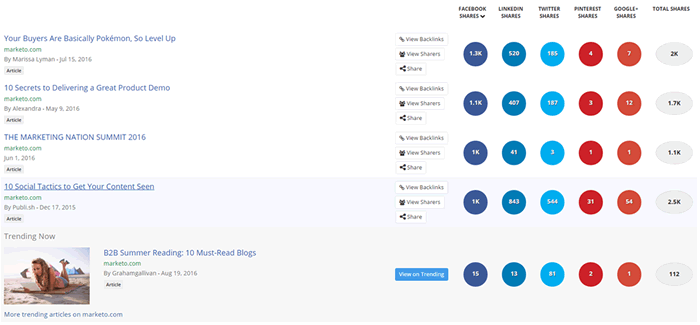 It looks like in addition to marketing their own conference, Marketo is spending a lot of energy producing content on timely trends like Pokemon or summer reading lists. There's also a lot of content around strategies for improving visibility.
Very interesting …
We can even export this data to an Excel spreadsheet, so we can start to map out potential content ideas for our own website.
Strengthen Your Keyword Strategy
If your competitors outrank you in your targeted keywords, you'll miss out on search engine traffic.
An effective keyword strategy includes the following steps:
See which keywords your competition is using
Determine whether those keywords would work for your business
Track your rankings against your competitors'
Let's look at the tools that help you do all this.
1. Find Your Competitors' Keywords
Tool: SEMRush
Price: Free version gives 10 keywords; full versions start at $69.95/month
SEMRush is one of our favorite tools for flushing out the keywords your competition is targeting.
To use the tool, first enter your competitor's URL on the home screen.
On the next screen, click "View Full Report" under "Top Organic Keywords."
Here's a sample report we generated to analyze HubSpot competitor Marketo.com: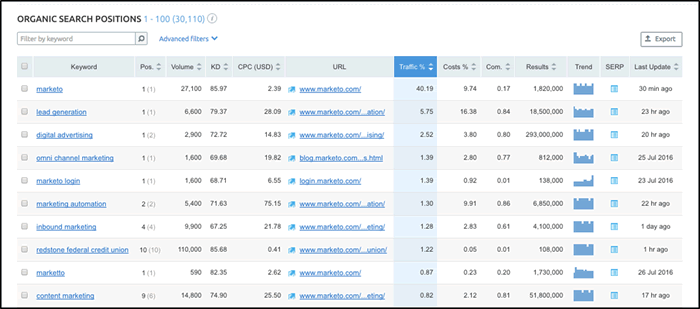 All good stuff, but we're not done yet …
Tool: BuzzStream's Meta Tag Extractor
Price: Free
Our second favorite keyword spying tool is BuzzStream's free Meta Tag Extractor, which pulls the page title, description and keywords from a list of URLs.
To see a range of keywords, you can enter multiple URLs.
For example, let's say we wanted to check out the meta tags for these three HubSpot competitors:
By exporting the data to a CSV file in Excel, we can quickly see which keywords these guys are targeting:

If we were HubSpot, we'd definitely want to compare our own meta tags against what these guys are doing. Perhaps there's a keyword in there we hadn't considered?
2. Determine Keyword Value
Tool: Moz Keyword Explorer
Price: Two free queries per day; full version starts at $50/month
Just because your competitor is targeting a particular keyword doesn't mean it's the best keyword for your business.
You need to see how much traffic that keyword gets, how relevant it is to your offerings and how difficult it would be to rank for it.
Fortunately, Moz Keyword Explorer makes it easy to figure that all out.
Below are the results for "marketing automation":

The number to watch here is Potential. This number represents a composite score (from 0 to 100) that combines traffic, difficulty and opportunity. The higher the Potential score the better. A Potential score of 56 is decent, so this keyword would go on our list of targets.
Pro Tip: Always validate your chosen keyword in Google Search.
For example, if a search on "marketing automation" turned up mostly scholarly articles about marketing automation, rather than sales pages for marketing automation software, that could be a clue to look for more targeted keywords.
3. Track Rankings
Tool: Moz Pro
Price: 30-day free trial; full version starts at $99/month (includes Keyword Explorer)
Moz Pro lets us set up a regular process to track rankings for these high-value keywords.
To see a breakdown of how you and your competitors are positioned for each keyword, from the Moz dashboard choose "Rankings" from the left menu and then click the "Competition" tab.
In our example below, using the keywords we gleaned earlier from BuzzStream we compare HubSpot's rankings against Marketo, Pardot and Infusionsoft.
Here's what we'd find: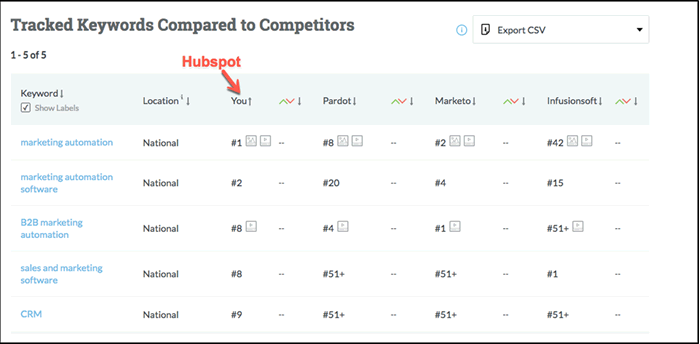 Now that we know where we stand in the search engines, we can begin to measure our progress. Nice!
Analyze Backlinks
Tool: Ahrefs
Price: 14-day free trial; Lite version is $99/month
The unfortunate truth of SEO is that you can incorporate all the best keywords in all the right places – but if your competitor has more backlinks than you, they still might beat you in the rankings.
Ahrefs lets you see where your competitors are getting backlinks and how valuable the links are.
In the example below, we spied on Pardot's backlinks. With Ahrefs, we can organize backlinks by Domain Ranking, or DR. The higher the DR, the more authoritative the website and the better the link.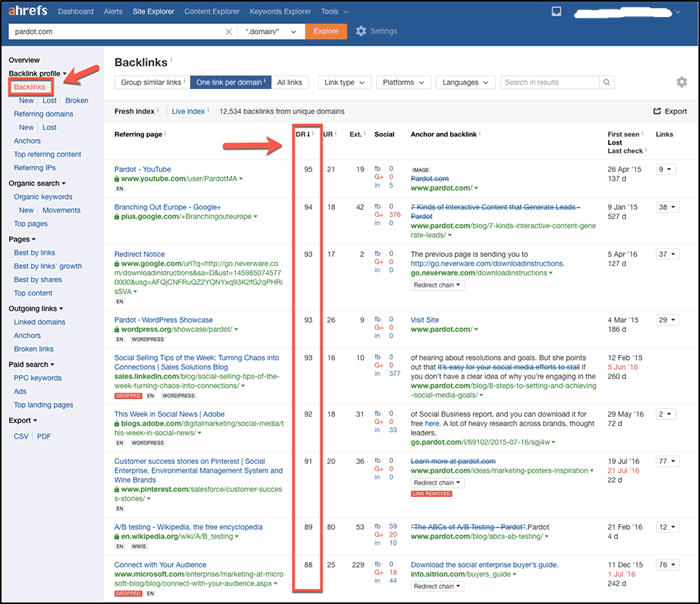 Seeing this data on Pardot's strongest backlinks, we can identify that Adobe's blog might be a good target for HubSpot's future outreach efforts.
Survey Social Media
Tool: Fanpage Karma
Price: Free
Social media offers opportunities to directly engage with current and potential clients, making it an important piece of the inbound marketing funnel.
Use Fanpage Karma to see where your competitors are succeeding in the social universe.
We set up a dashboard comparing HubSpot to its competitors on Facebook …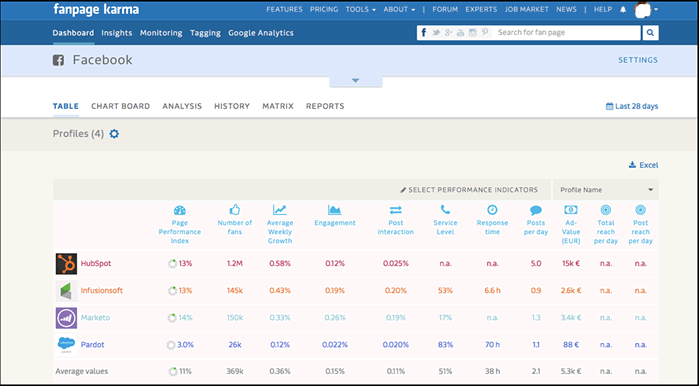 … and on Twitter: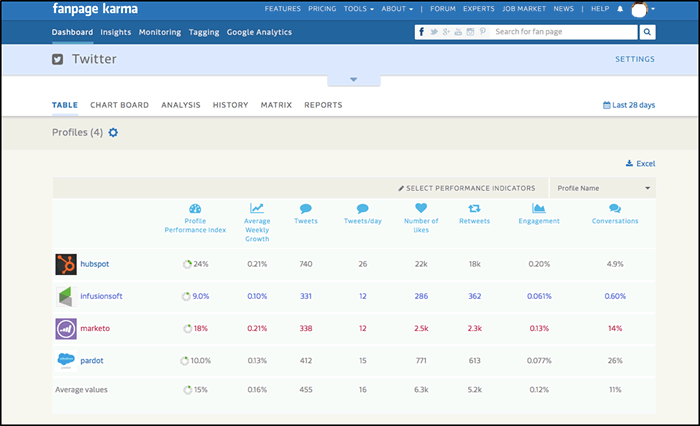 Fanpage Karma also supports Google Plus, YouTube, Instagram and Pinterest, making it an incredibly thorough tool that lets us see where we should be focusing our attention, socially speaking.
Monitor Media Mentions
Tool: Google Alerts
Price: Free
Everyone loves press releases and media mentions because they build your brand and boost your SEO with backlinks.
Google Alerts lets you see how your competitors are faring in the press. Simply set an alert for any keyword, company name or even specific domain, and you'll receive an email notification any time it shows up online.
This is great for supplying ideas for your own PR. It also gives you a heads up on how much media interest your competitor is generating.
For example, HubSpot might want to monitor how often Infusionsoft's press releases are picked up online.
By setting up a Google Alert on Infusionsoft, we can see where they're getting attention: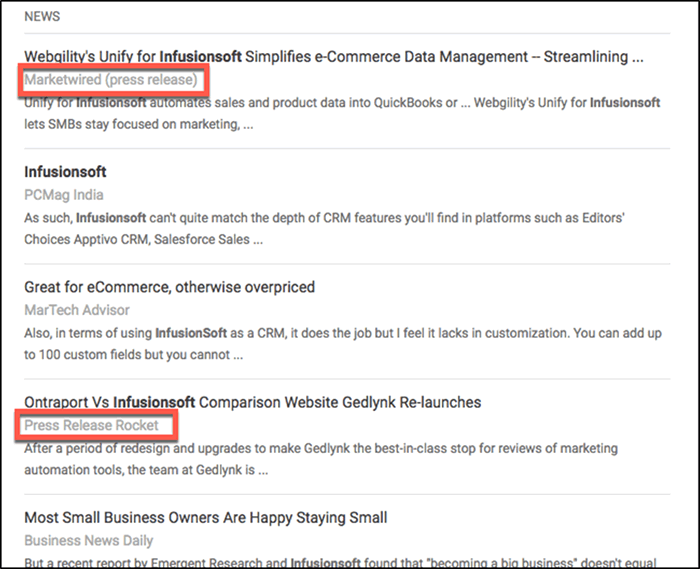 Maybe these outlets should be targets for our own press releases? Definitely food for thought.
It's easy to get swept up in the day-to-day of your online marketing efforts and ignore your competitors. But with the tools outlined above, competitive analysis can be easy, quick – and even dare we say a little fun?
Want to go even deeper and prove the ROI of all of these marketing efforts? Download our free ebook, Six Marketing Metrics You Can't Afford to Ignore to see the KPIs you should be tracking.