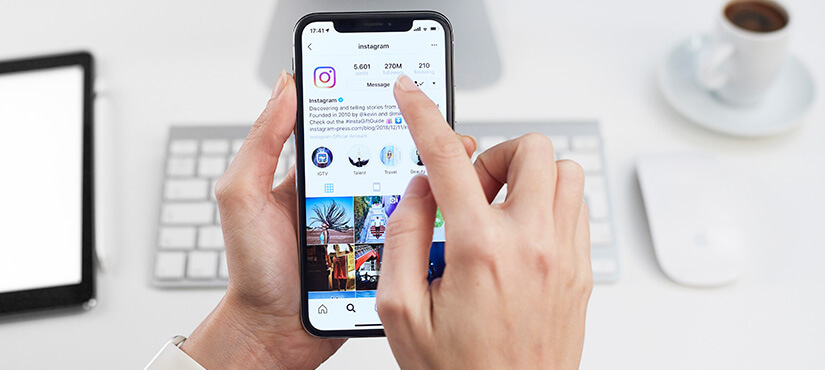 B2B companies just aren't a good fit for Instagram, right?
Not so fast …
According to Hootsuite, more than one billion people use Instagram every month – making it the fastest-growing social media platform. For this reason alone, Instagram should be on the radar of any business that markets to an audience who uses the platform or that is a natural fit for sharing visual content.
Businesses might also build a presence on Instagram for reasons other than marketing.
Case in point: WellRight, a company that provides employee wellness programs. As WellRight's Marketing Manager, Annie Hackett, explains,
"We use Instagram for recruitment and retention, rather than for promoting content. When people see the type of work culture we're building and team activities or challenges we're participating in, it makes WellRight relatable and appealing."
Instagram provides businesses with many ways to engage with an audience, as well as many tools and resources to build your account and grow your following.
If you're new to Instagram, getting started is easy.
How to Create a Business Profile on Instagram
To convert a personal account into a business profile, simply go to your profile, click the three lines in the top right corner, and tap "Settings." From there, tap "Account" and "Switch to Business Profile."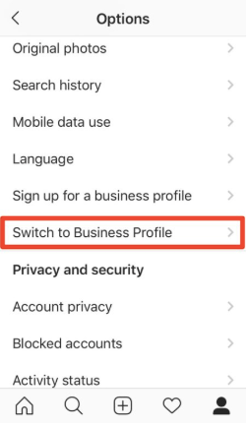 A business account will automatically connect with your Facebook account and will allow followers to easily contact your company through an email or phone number. In addition, you can use your business account to create Instagram Ads, which are targeted ads to reach a specific audience.
Now that you're ready to go, here are five tips and tricks to help you build an amazing Instagram account that stands out from the crowd.
1. Understand your audience with Instagram Insights
To run a truly successful social media account on any platform, you first need to identify and understand your audience. If most of your audience were middle-aged women from the Midwest, you wouldn't want to create content targeted at millennial men from the South. This is where Instagram Insights, Google Analytics, and other data tools can help.
What are Instagram Insights?
Instagram Insights is Instagram's analytics tool, available to any business profile right in the app. It provides data to help you understand your followers, content, and engagement, including:
Follower demographics (age range, location, days/times most active)
Most popular posts and stories
Engagement (reach, accounts reached, impressions, impressions by day)
Using this information allows you to follow and track your marketing efforts, making Instagram growth easier.
How to use Instagram Insights
To view Insights, go to your business profile, tap the three lines in the top right corner, and tap "Insights."

Source: https://www.instaboom.es/en/how-to-read-instagram-insights/
Here you can easily measure progress on your company's objectives by tracking the key performance indicators (KPIs) that correlate to those objectives. Some examples might include:


| | |
| --- | --- |
| Objective | Instagram Insights KPI |
| Attract a specific target audience | Follower age range, follower location |
| Increase the number of people viewing your posts | Reach, impressions |
| Bring people from Instagram to your website | Website clicks |

These KPIs can be found directly in the app and can help you analyze the effectiveness of your social media strategy as you work towards your business goals.
One company that has recently expanded into Instagram is ClearSale, a provider of e-commerce fraud solutions. Shannon Fletcher is the co-founder of Maven Sales, the agency that manages ClearSale's social media.
"I find Instagram Insights incredibly helpful for both my own business and for the clients I serve," Fletcher says. "It helps me understand things I need to know, such as whether our followers are skewing male or female, their age ranges, what countries they're from, and even what cities in those countries."
2. Get creative with Instagram Stories
One of the newest and most useful features on Instagram is Instagram Stories. The tool, modeled after Snapchat's story feature, allows users to post content that disappears after 24 hours. Stories have a maximum roll time of 15 seconds.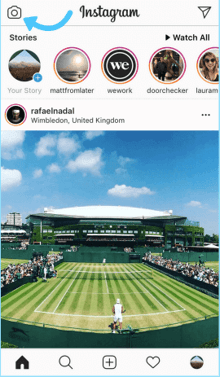 Source: https://later.com/blog/instagram-stories-for-business/
Why publish a Story rather than a regular post? There are many features inside of Instagram Stories that can make your content more creative and more personal, generating more engagement from followers.
For example, you can add text, hashtags, music, and GIFs to Stories. Or you can encourage engagement by including polls, questions, and countdowns in your Stories. You can also insert a link into your Story so your followers can easily swipe up and be automatically redirected to your website.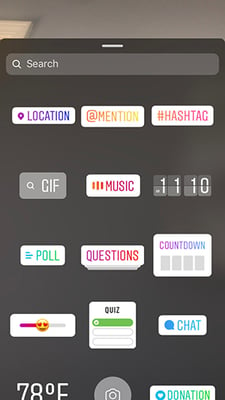 "I use the Stories feature for fun snapshots and highlights. When other people tag our company account, I can add that to our Stories reel. It's cool to see which other organizations are interacting with us or giving us shout outs about wellness challenges and progress," shares Hackett, "Because it disappears after only 24 hours, the Stories can function as teasers and previews to what goes on around here, so you need to keep following to see more!"
You have many options to consider when deciding what type of content to post on your Instagram Story. You can post a photo, video, boomerang (a fun mini-video that plays forward and backward repeatedly), and even go live, all on your Story.
43% of people want to see more video content from marketers (
Hubspot
, 2016).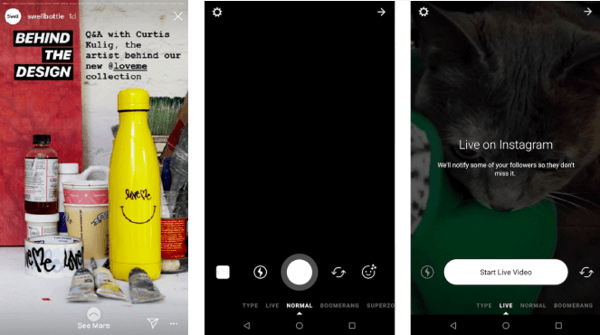 Source: https://later.com/blog/instagram-stories-for-business
https://www.dailydot.com/debug/instagram-live/
Although Instagram provides users with plenty of features to creatively design and publish Instagram Stories, businesses can also use third-party tools to take their Instagram Story game to the next level.
Some great free tools that work well with Instagram include:
3. Post longer video content on IGTV
Until recently, Instagram didn't allow users to post video content longer than one minute. In 2018, Instagram launched IGTV, a new way for users to share their longer content.
What is IGTV?
Instagram TV is an Instagram feature available directly in the Instagram app and as a standalone app. It allows users to directly post video content lasting anywhere from 15 seconds to 10 minutes (or, for larger accounts, up to one hour).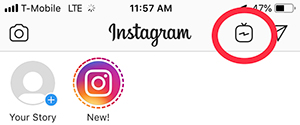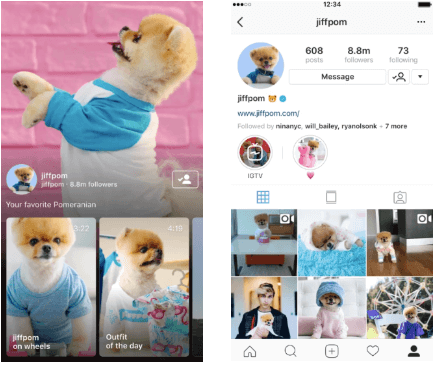 Source: https://instagram-press.com/blog/2018/06/20/welcome-to-igtv/
How to use IGTV
To view IGTV content from other accounts, simply click the TV icon in your main feed. To post a video, click the plus button in the top right corner.

What type of content works best on IGTV?
With the ability to create up to 10-minute videos, the options are endless. By trying different forms of video content, you can discover what types of content receive the most engagement among your followers.
Some possible options to consider might include:
Promotional videos
Video blog posts
Mini webinars
For example, HubSpot, a leading provider of marketing automation software, uses IGTV to inform their followers and give a glimpse into what their company is all about. The company makes two- to 10-minute videos explaining a marketing concept, idea, or strategy. Past video titles include "How to Use Hashtags For Business," "How to keep video content true to your brand?," and "5 Social Media Community Management Tips."
4. Use the right Instagram #hashtags
Social media managers know hashtags are an important part of any social media post because they can increase your account's visibility and encourage followers to engage with your posts.
Follow these tips to use hashtags correctly:
Types of Hashtags
The hashtags you choose to include in your posts should be directly related to your specific community and industry. For example, if your company is in the food industry, hashtags related to the healthcare industry won't help your posts be found by your ideal followers and could possibly cause these ideal followers to lose trust in your account.
Even within your industry, it's important to use specific hashtags instead of being too general. For example, if you're promoting an inbound marketing agency, rather than using generic hashtags like #marketing or #business, use more specific hashtags such as #inboundmarketing, #contentstrategy, #marketingcreators, and #SEO, which will give you a better chance of being noticed by the right people.
Numbers and emojis can also be hashtags. Placing a # before a number or emoji will make it a clickable element. Additionally, avoid the use of apostrophes, spaces, and special characters ($, &, %) in hashtags, as they will not function properly.
Number of hashtags per post
Instagram allows users to post up to 30 hashtags per post. However, just because you can use that many it doesn't mean you should. There is no universal number of hashtags that has been proven to generate the most engagement. Every account is unique, so experiment with different numbers of hashtags to find what works best for your company.
Placement of hashtags
A common hashtag trend is to place all the hashtags at the end of the post. While this can work well in some cases, it can also make the post look too much like an advertisement, which could be off-putting to your audience. Instead, try working in hashtags throughout your post, or create a separate comment where you can post your hashtags.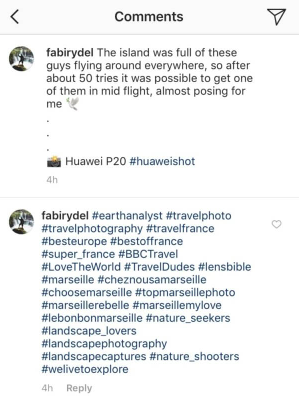 Source: https://www.hopperhq.com/blog/instagram-hashtags-guide/
5. Embrace Instagram third-party tools and apps
Instagram comes equipped with many great features and tools, but they may not be enough for growing businesses. A complementary Instagram third-party tool can help you do more with your account, which ultimately can help set you apart from competitors.
Fletcher confides, "Let's face it: Social media managers are human, and with that comes a LOT of inconsistency. Our lives get busy, our schedules fill up, and we can't always be available to post during the most optimal time for a client … but our automation software can!"
Here are some time-tested third-party applications:
Schedule and plan posts in advance
Access to additional analytics

Create visually appealing feed with drag & drop feature

Easily find user-generated content
Pricing: $19/month - $49/month depending on the plan you choose.


Schedule and plan posts in advance
Access to additional analytics
Monitor keywords and conversations to view competitors and what people are saying about your company
Compatible with all social media platforms, not just Instagram
Pricing: $29/month - $599/month depending on the plan you choose.


Schedule and plan posts in advance
Access to additional analytics
Collaborate with your team
Compatible with all social media platforms, not just Instagram
Pricing: $15/month - $99/month depending on the plan you choose.


Final Note: Instagram Tips & Tricks
Grow your Instagram account by thinking beyond traditional forms of content. Explore all available resources, so you can find what works best for your business and your brand.
Remember:
Understand your audience with Instagram Insights
Get creative with Instagram Stories
Post longer content on IGTV
Use the right Instagram #hashtags
Embrace third-party tools and apps
"My favorite thing about Instagram is definitely the ability to be creative," says Fletcher. "Regardless of whether you're B2B, eCommerce, or B2C, Instagram gives you the flexibility to show really interesting sides to your business and give it a personality that stands out from other platforms."
Effective Instagram use can provide your business with new leads, increased engagement, and a further understanding of your market. While the number of features, tools, and social media platforms out there today may seem overwhelming, don't worry. Start small, create an Instagram account, and follow our tips to grow your business profile into a #socialmediapowerhouse.